They sent the airlines a notice on Friday, but the final decision has not yet been made. If Washington decided to use civilian aircraft, they would not fly directly from Kabul, but would transport evacuated Afghans and citizens of other countries from US air bases in Qatar, Bahrain and Germany.
The Wall Street Journal (WSJ) was the first to report on preparations for a significant strengthening of evacuation capacities from Afghanistan. According to him, the Biden administration is considering activating the Civil Reserve Air Fleet (CRAF), created in 1952 after the post-war air bridge from Berlin. The involvement of commercial airlines would reduce the pressure on these bases, which are rapidly being filled by evacuated Afghans. However, the US government is also considering alternatives, such as expanding the number of US military bases on which to accommodate Afghans, the WSJ wrote.
Biden spoke with members of his National Security Council on Saturday about transporting people from Afghanistan and concluding agreements with third countries willing to provide space for transit centers for evacuation. It was one of the topics of the meeting in the White House, which concerned the security situation in Afghanistan and counter-terrorism operations, including the Islamic State group, writes the AP agency.
US Secretary of State Antony Blinken said that 13 countries have so far agreed to at least temporarily accommodate vulnerable Afghans who have not yet been screened for resettlement in the United States: Albania, Chile, Canada, Qatar, Colombia, Kosovo, Costa Rica, Mexico, Poland, Rwanda, Northern Macedonia, Uganda and Ukraine.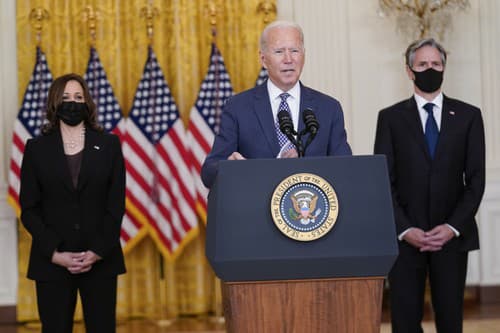 Source: SITA / AP Photo / Manuel Balce Ceneta
Another 12 states have agreed to be transit sites for people leaving Afghanistan. These are Bahrain, Britain, Denmark, Qatar, Kazakhstan, Kuwait, Germany, the United Arab Emirates, Tajikistan, Italy, Turkey and Uzbekistan.