As approached by the Ministry of Health (MZ) SR, 37 positively tested out of completed 11,161 antigen tests were added. "In the last week, the number of samples tested positive for the delta variant is 158 out of a total of 160 sequenced samples. This represents a 98.8 percent representation." said the resort.
The most positively tested RT-PCR tests were in the Bratislava region (27), followed by Prešovský (15), Trenčiansky (15), Košický (13), Nitriansky (8), Žilinský (7), Banskobystrický (5) and Trnavský (4) . According to the Ministry of Health of the Slovak Republic, there are 48 men and 46 women.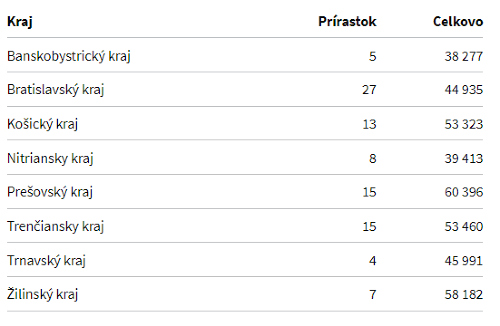 Source: korona.gov.sk
There are 72 patients in the hospitals
There are 72 patients hospitalized in hospitals, 47 of whom have confirmed the disease. There are seven patients at JIS, four people need the support of artificial lung ventilation. The number of confirmed victims for pulmonary COVID-19 has not increased. The total number of "covid" deaths is 12,547 and the total number of "covid" deaths is 2,457.

Source: korona.gov.sk
The total number of people vaccinated with the first dose of the vaccine is 2,344,753, and 4,445 were vaccinated in the previous day. The second dose of the vaccine has already been given to 2,122,036 people, and 4322 people have been vaccinated the past day.