Most often, the victims end up shot or hanged. According to Fox News, a similar fate should have struck three high-ranking Afghan officials. The Taliban promised a general amnesty, but militants evacuated soldiers from their homes and allegedly executed them in public.
There are also widespread testimonies that they are still being tortured before the death of people, as several videos from the country have to prove.
Afghan translators and those who are suspected of working for foreign countries have been tortured by #Taliban in Nangarhar. #Afghanistan #TalibanDestroyingAfghanistan pic.twitter.com/yTkXIR7shf

– Refugee Lives Matter?️?️?️ (@SaveRefugeesNow) August 18, 2021
In Ghazni province, for example, gunmen killed nine men. Six were shot and three were tortured to death. One of them, for example, was gradually suffocated by his own scarf and slowly cut off the skin and muscles in his arms. Another broke his arms and legs and tore his hair.
A threat to journalists and their families
It's not easy for journalists either. News also began to spread about the killed family members of a journalist from the German public media Deutsche Welle. "The killing of a close relative of one of our editors by the Taliban is incredibly tragic and confirms the acute danger in which all our workers and their families find themselves in Afghanistan. " said station manager Peter Limbourg.
Country search
Members of the Taliban insurgent movement, which has recently taken control of Afghanistan, walk from door to door, looking for former collaborators of NATO countries and the overthrown Afghan government and threatening their family members. According to the BBC, this is stated in a report by a Norwegian organization that processes intelligence for the UN. At the same time, the Taliban have been promising since taking power that they will not take revenge on anyone. However, a number of Western experts and politicians fear that their attitudes have not changed much since the 1990s, when they led a repressive Islamist regime in Afghanistan.
"The Taliban are intensifying their search for all individuals and associates of the previous regime, and if they fail to do so, they are targeting their families, who are arresting and punishing Sharia law according to their interpretation." the report states. "Individuals in central positions in the military, the police and in investigative units are at particular risk." the document continues.
They keep a list, people on it are in danger
According to Norwegian experts, the Taliban keeps a list of people they are trying to find. According to the head of the organization that drafted the report, everyone on the list is in great danger, because it is possible that the Taliban will start executing them en masse.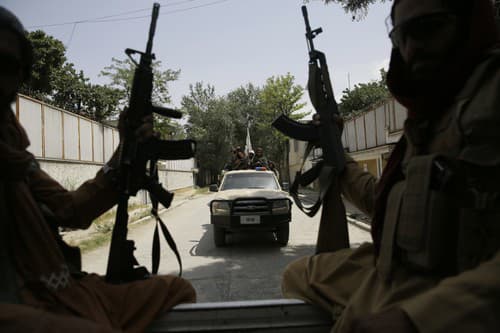 Source: TASR / AP Photo / Rahmat Gul
A Taliban spokesman has said in recent days that the insurgents do not want to create any external or internal enemies. They also promised an amnesty for all members of the security forces of the former regime and those who cooperated with foreign powers.
However, Western states and many Afghans do not have much confidence in the Taliban's statement. US President Joe Biden said he said the insurgents had not changed in the last 20 years. According to many experts, the only motivation for the Talib now to maintain good relations with the Western powers is to seek international recognition for the emerging Afghan government.