Július Satinský was born on August 20, 1941 in Bratislava. He studied dramaturgy at the Academy of Performing Arts in Bratislava and began his professional career as a dramaturg at the then Czechoslovak Television in Bratislava. Since 1959, together with Milan Lasic, they have acted as a comic duo in original performances.
Július Satinský
In the 60s and 90s of the 20th century, Satinsky was the author or co-author of a number of scenes, dialogues and feature programs, such as Who's Behind the Doors, Evenings for Two, Don't Wait for Godot, Soirée, Joyful Message, How the Hen Is Made, Our Friend René, No one is behind the door, the Jubilee, in which he also performed. Many of them have been published as books. For the last six years of his life, he has appeared on a television talk show with Milan Lasic. Everyone is behind the door.
He portrayed a number of theatrical characters in plays by domestic and world playwrights. They cast him in television productions and films. Well-known are the films Celebration in the Botanical Garden (1969), Infinite – Don't Perform (1978), I Enjoy the World with You (1982), Heart Greetings from the Globe (1982), The Village Has a Center (1986), Let's Run Away, It's Going! (1987). The last film he starred in was director Juraj Nvot's Cruel Joy (2002). He was awarded a prize in memoriam at the International Film Festival (IFF) Art Film in Trenčianske Teplice in June 2003 in memoriam for his acting performance.
Source: FS Barrandov
His first wife was a member of the Ballet of the Slovak National Theater (SND), dancer Lúčnice and translator from English and Spanish, Oľga Lajdová. They married in 1965, but 20 years later, Satinsky's wife drowned while swimming in the Caribbean Sea in the Virgin Islands. He had a daughter, Lucia, and a son, Ján, with his second wife, doctor Věra Satinská.
Július Satinský succumbed to a long and serious illness on December 29, 2002 in Bratislava. He was diagnosed with cancer essentially by accident, it was not a planned examination, nor did he go to a doctor with pain. Originally, he only accompanied his brother in the surgery, who was the first to contract cancer. But the actor also asked for an examination to be sure, and the diagnosis was just as harsh. And Julo put up with the fight against the disease. As his brother Vojtech later revealed, the comedian, who once entertained people with his humor, also moaned in his sleep. However, he hid his suffering from colleagues and friends.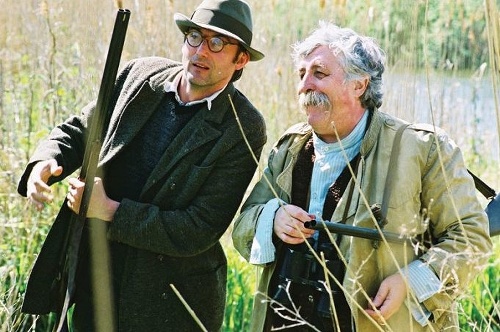 Source: Alef film