Benfica Lisbon footballers won the opening match of the Champions League playoffs 2021/2022 at home over PSV Eindhoven 2: 1.

TASR,
The truth

18.08.2021 23:09
Photo:

SITA / AP

,

ALESSANDRO DELLA VALLE
Ulisses Garcia celebrates the third goal of Young Boys Bern against Ferencváros.

The first goal of the match was scored in 10 minutes by Rafa Silva, who took the pass from Roman Jaremčuk at the border of the penalty area and opened the score with a cross shot to the right post.
Shortly before half time, Julian Weigl added a second hit around the corner. The guests reduced the lead to Cody Gakpa's 51 minutes into the match, but he fired just over the crossbar.
Ferencváros Budapest lost to Young Boys Bern 2: 3.
The home team, the conqueror of the Bratislava Slav in the 2nd preliminary round, played from the 26th minute without the excluded Silvan Hefti. Slovak national team member Róbert Mak came in from the right after 79 minutes.
1. matches play off LM 2021/2022:
Benfica Lisbon – PSV Eindhoven 2: 1 (2: 0)
Goal: 10. Silva, 42. Weigl – 51. Gakpo, judge: Brych (DEU)
Malmo FF – Ludogorec Razgrad 2: 0 (1: 0)
Goal: 26. Birmančevič, 61. Berget, decided by Lahoz (Šp.)
Young Boys Bern – Ferencvaros Budapest 3: 2 (2: 1)
Goals: 16. Elia, 40. Sierro, 65. Garcia – 14. and 82. Boli, ČK: 25. Hefti (Bern), judge: Collum (Scotland)
for guests Mak from 79. min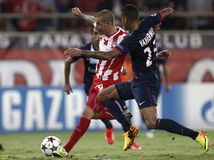 Read more Against an exclub with extramotivation. Remember Weiss's prowess against Paris
Celtic started the playoff EL victoriously
Celtic Glasgow footballers won the opening match of the European League playoffs over AZ Alkmaar 2: 0. In the 12th minute, Kjogo Furuhaši opened the score and after an hour of play, James Forrest added a second goal.
Game 1 play off EL 2021/2022:
Celtic Glasgow – AZ Alkmaar 2: 0 (1: 0)
Goals: 12. Furuhaši, 61. Forrest