Afghan filmmaker Sahraa Karimi recorded an emotional video a few days after the Taliban invaded Kabul, begging the international film community to help save local filmmakers. On Twitter, she informed her fans on Tuesday that she managed to get to safety, also thanks to the Slovaks.
Chaotic and desperate scenes from Kabul Airport have been seen by almost everyone in recent days. After the Taliban quickly took control of the capital, many residents are trying to flee the country to avoid persecution, including Afghan filmmakers, including the famous director Karimi.
Sahraa Karimi was born in 1985 in Kabul and she emigrated to Slovakia at the age of 17. She completed her doctoral studies in the Studio of Screenwriting and Feature Directing at the Faculty of Film and Television VŠMU in Bratislava. Her debut film Afghan women behind the wheel (2009) won dozens of awards at important film festivals and her student film Light Breeze won the national film award Sun in the Net for best short film. In October 2016, she premiered her film entitled Parlika about an Afghan woman fighting for human rights and women's rights at the 17th One World Film Festival in Bratislava.
Sahraa later moved back to Kabul, where in May 2019 she became the general director of the state institution Afghan Film. Karimi is also a member of the Slovak Film and Television Academy.
Sahraa came to the attention of foreign media a few days ago, when she uploaded an emotional video to the internet. She asked for help with the evacuation shortly after the Taliban took control of the Afghan capital. "Me and other filmmakers could be other targets on their list, " she warned Karimi, she added, said the Taliban would "ban all art." For SME diary the filmmaker said she was an educated and independent woman in the cultural industry, and she hated the Taliban.
>>> The Taliban occupied an amusement park, armed soldiers rode there on a racetrack and carousels <<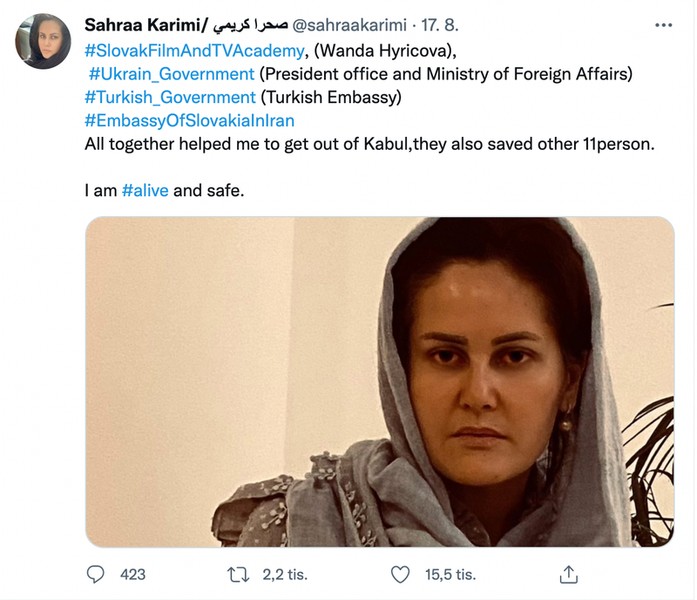 Photo: Twitter.com/Sahraa Karimi

The director finally under dramatic circumstances, she managed to escape from Kabul, which she reported, from safety on her Twitter. "My dear friends, don't worry, I'm fine and safe,"said Karimi. In the following status, about which he also wrote a well – known American portal Deadline, thanks Wanda Hrycova, President of the Slovak Film and Television Academy, as well as the Slovak Embassy in Iran, the Ukrainian and Turkish governments for helping to rescue her and help her escape from Kabul together with 11 other unnamed persons. "I am alive and well," she wrote filmmaker at the end of the status.
According to the SME Diary, Sahraa is located in Kiev, which got to Turkish Airlines on Monday.
______________________________
SEE ALSO OUR VIDEO: