Children from the summer tent camp in Turček in the district of Turčianske Teplice, which was hit by a windstorm on Tuesday night, were handed over to their parents in the morning. Jaroslav Kapusniak, director of the Regional Directorate of the Fire and Rescue Corps (HaZZ) in Žilina, informed about it at the scene.
"As a result of the storm activity, six statutes were damaged and refuted. Our activity consisted in providing assistance to the ambulance service in providing assistance to injured persons." said Kapusniak.
According to him, firefighters also ensured the evacuation of 104 people to the nearby Capuchin monastery, which was located about 1.5 kilometers from the camp. "However, it was an inaccessible terrain, so it was necessary to deploy equipment. The evacuation of children took about two and a half hours, in cooperation with the Capuchin Monastery and the Police Corps (PZ), the PZ post-traumatic team and the village of Turček. They were deployed in Turček, where 12 children were placed,"Kapusniak approached.
The parents thanked the public for their condolences
Shortly after yesterday's media coverage of the report, a comment from the affected family of only a 7-year-old poor boy appeared under the account of the mentioned camp. Through a joint account, the parents thanked them for their sincere condolences and expressed their wishes. "So that this camp doesn't end. Jakubka won't give it back to us, but the children shouldn't lose those amazing experiences from the camp, including our other two children," write angry parents.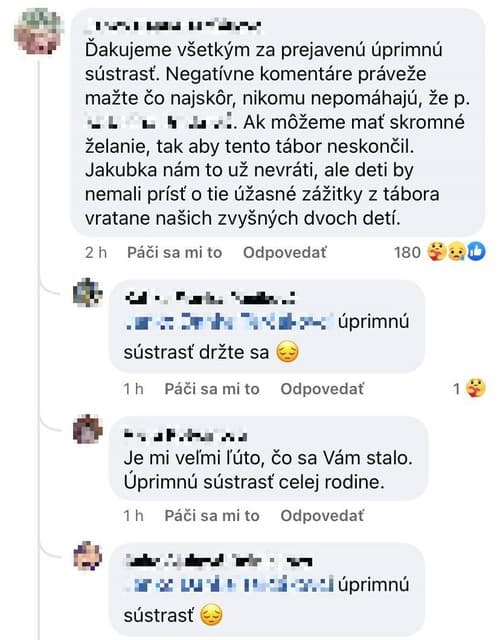 Source: Facebook / Summer Indian Camp – On the prairies – To the Forests!
---
---
The organizers made a gesture to the family and launched the collection
Jakubko was at a summer Indian camp near the village of Turček, whose organizers later confirmed the sad news, but today they came up with another report. On the account number SK82 0900 0000 0051 8235 1567 in fact, they set up a public collection for a family tested by life. "Every charity will help the mourning family to overcome not only the current difficult period. Please help with any amount and we ask you to share this message so that we can send love and support to the bereaved together." write the organizers of the camp, who yesterday expressed their sincere condolences to the family.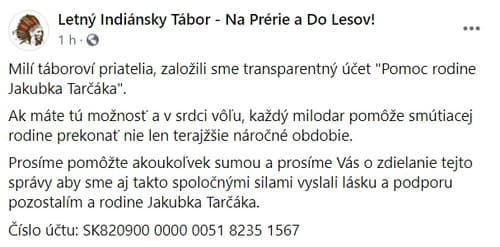 Source: Facebook / Summer Indian Camp – On the prairies – To the Forests!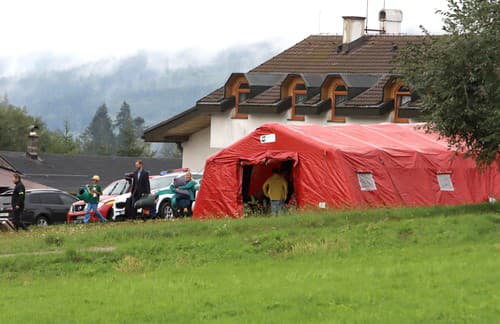 Source: TASR – Ján Krošlák
The storm was the trigger for the tragedy
The summer tent camp in the village of Turček was destroyed by a wind disaster on Monday night (August 16) for Tuesday. There were 104 children in it, seven of whom suffered injuries and one lost their lives. It was the mentioned little Jakubek, who was only seven years old. The injured children were taken to nearby hospitals, and their condition is stable.
VIDEO Firefighters informed about the intervention in the destroyed camp: