According to the new barometer of Gras Savoye Willis Towers Watson, the number of employees who took time off work rose sharply in 2020, an inevitably exceptional year given the health crisis.
Absenteeism in the workplace continues to grow, year after year, according to the new barometer of Gras Savoye Willis Towers Watson. The insurance group estimates that the absenteeism rate of employees increased by 20% in 2020 from 4.18% in 2019 to 5.04% last year. Between 2016 and 2020, it even increased by 40%.
This is obviously not a surprise since 2020 was a year of pandemic with in particular the implementation of derogatory stops in connection with out-of-school children, vulnerable people or even relatives of vulnerable people.
In the end, 34% of employees took at least one stop during the year. This is much more than in recent years (between 25% and 28% between 2016 and 2019) and this is mainly observed during the first confinement before the derogatory stops are transformed into partial unemployment. On the other hand, the average annual duration of 54 days remains stable compared to 2019.
In March and April 2020, "we peaked at 10% absenteeism rate", explained this Wednesday morning Noémie Marciano, technical director and Health & Benefits consulting offer at Gras Savoye, on the set of BFM Business. But "what we observe, if we try to smooth and erase this March-April effect, is that we still have an upward trend of more than 7% and when we look in the rearview mirror we have an upward trend of more than 20% between 2016 and 2020 ", she said.
Stops include both sick leave (83% of the total in 2020) and work accidents (17%). Either way, the numbers are on the rise in 2020.
"There are more and more people absent from companies. This is a subject that is highly anticipated by employees […] and that costs businesses dearly. For example, for a company of 1000 employees with 30,000 euros of average salary, if you have an absenteeism rate of 5% it can cost you between 1.5 and 3 million euros per year ", specified Noémie Marciano.
Non-executives particularly affected
In detail, the absenteeism rate increases worryingly among non-executives, going from 4.75% in 2016 to 7.05% in 2020 while that of executives remains relatively stable (2.15% in 2016 against 2 , 42% in 2020).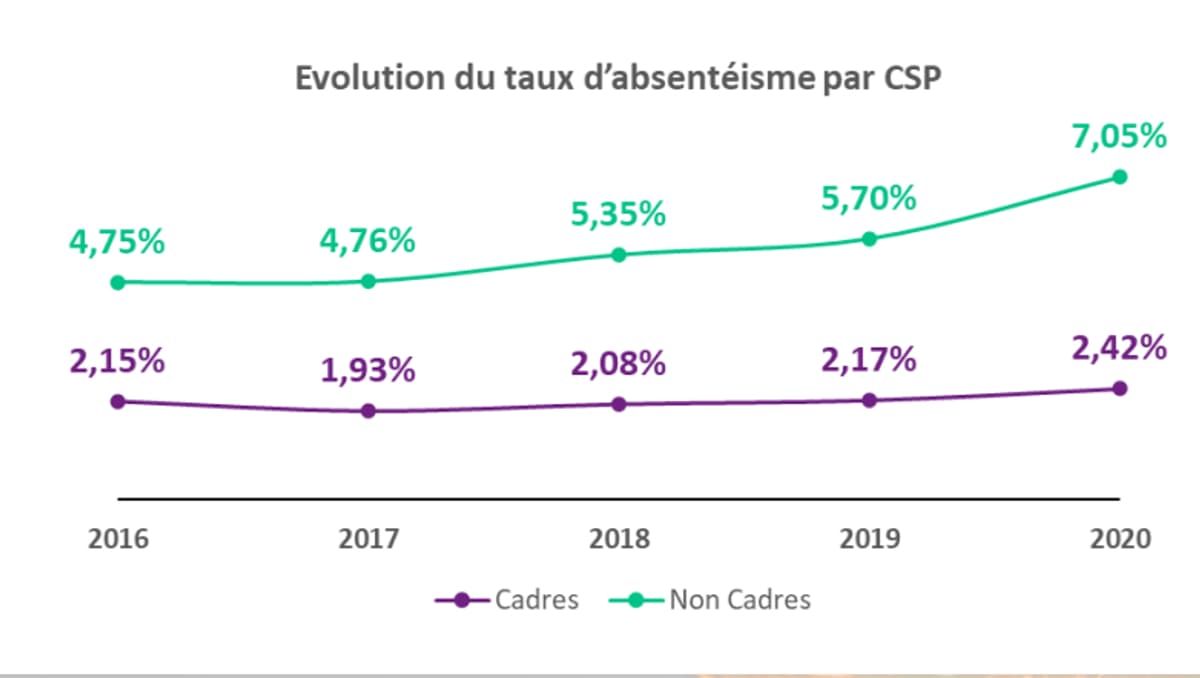 In terms of activity sectors, health comes first with an absenteeism rate approaching 10% in 2020, against 7.59% in 2019. Next comes the transport and logistics sector (7.97% in 2020, compared to 6.05% in 2019).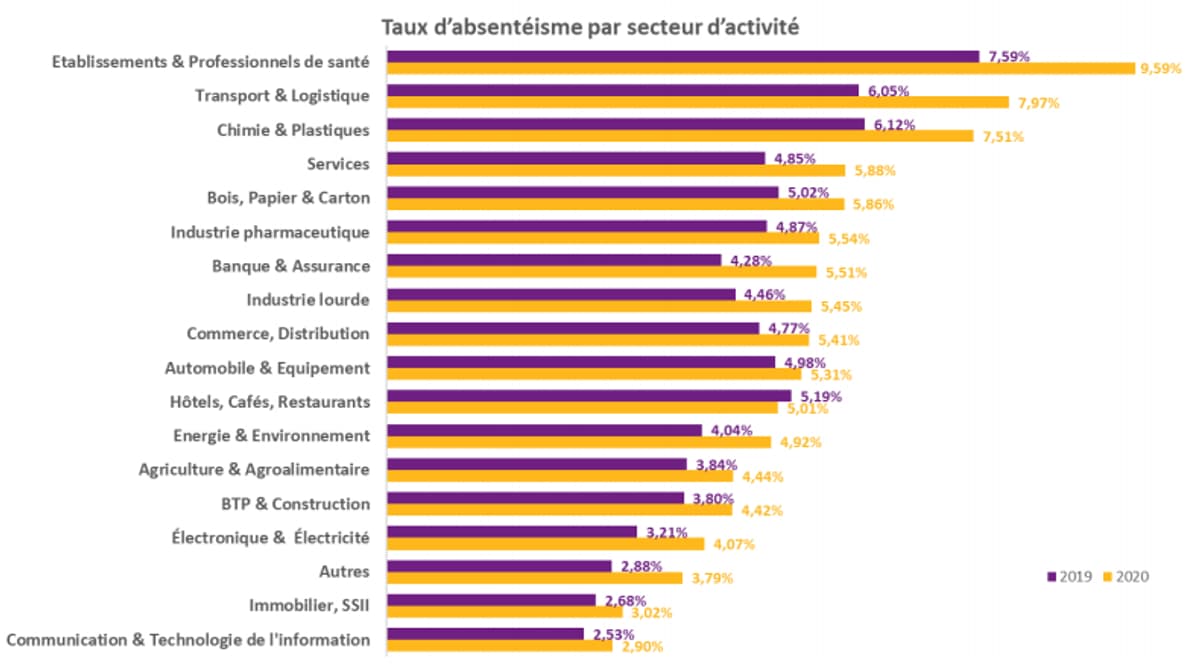 Finally, 2021 does not announce any improvement. Gras Savoye Willis Towers Watson predicts a lasting deterioration in absenteeism. "The Covid and the subsequent confinements will most likely have long-term repercussions" warns the insurer.
Thomas leroy BFM Business journalist