The dramatic consequences the powerful 7.2 magnitude earthquake that occurred on Saturday August 14 in the south of Haiti, continue to grow. The country now deplores 724 dead and more than 2,800 injured, according to the latest press release from the civil protection services, Sunday August 15. A previous assessment reported at least 304 dead.
The earthquake occurred at around 8:30 a.m. local time (2:30 p.m. in Paris) on Saturday, according to data from the American Institute of Geophysics (USGS), 12 km from the city of Saint-Louis-du- South and 160 km southwest of the capital, Port-au-Prince.
The head of government, Ariel Henry, who flew over the most affected areas by helicopter on Saturday, announced that a state of emergency had been declared for one month in the four departments affected by the disaster.
After a trying night in the aftermath of the earthquake, residents and relief workers were busy Sunday with limited means to find survivors under the rubble. A number of heavy machinery, trucks and backhoe loaders were busy moving concrete slabs from collapsed buildings in Les Cayes, near the epicenter of the earthquake.
Relief efforts to help victims, however, could be hampered as Tropical Storm Grace approaches, with the risk of torrential rains and flooding, according to the US National Weather Service.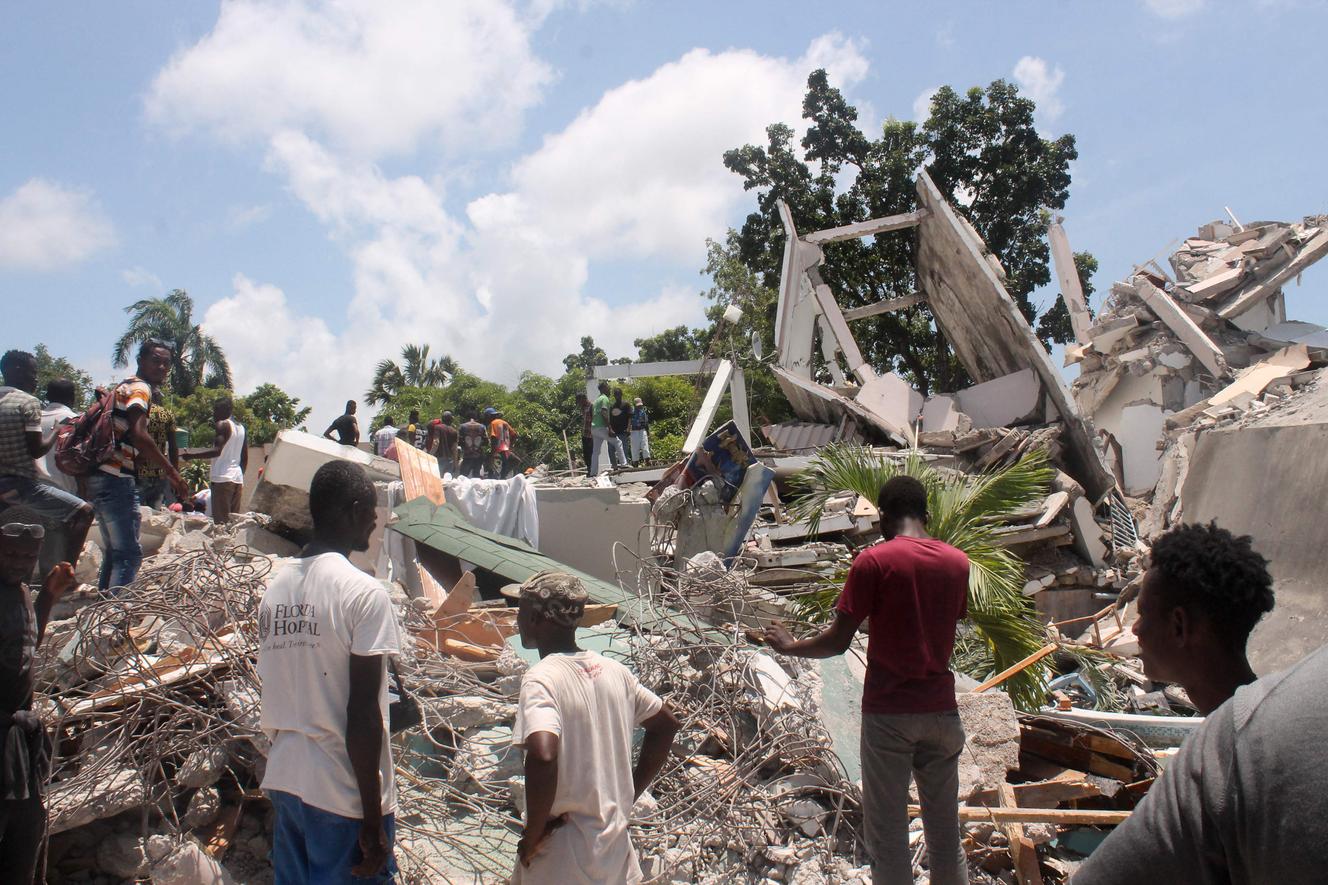 The specter of the 2010 earthquake
Staff and medicines have already been sent by the Ministry of Health to help the victims, but emergency logistics are also jeopardized by the insecurity that is plaguing Haiti. For just over two kilometers, the only road connecting the capital to the southern half of the country crosses the poor neighborhood of Martissant, under the control of armed gangs since the beginning of June, preventing free movement.
Many countries, including the United States, the Dominican Republic, Mexico, and Ecuador have already offered their assistance with the dispatch of personnel, emergency rations and medical equipment.
The poorest country in the Americas still remembers the terrible earthquake of January 12, 2010. Over 200,000 people had been killed, and over 300,000 others were injured. More than a million and a half Haitians then found themselves homeless, placing the authorities and the international humanitarian community before the colossal challenge of reconstruction in a country without land registry or building rules.
The country's efforts to recover from this disaster had been hampered by strong political instability. Eleven years later, the island is still in the grip of an acute socio-political crisis, its president Jovenel Moïse having been assassinated last month.