archive video
NATO sends ships and fighters
NATO presents its initiative on the social network. They announced that they were sending more ships and planes to increase deterrence and defense in Eastern Europe. These moves are a reaction to the gathering of Russian troops near the Ukrainian border, including from the Belarusian side, where other Russian troops moved last week. According to the Belarusian Ministry of Defense, the reason is probably only a border defense exercise.
"As Russia continues to build military forces in and around Ukraine, in strong allied solidarity, NATO member states are putting their forces on alert and sending more ships and combat aircraft to NATO's deployment in Eastern Europe." writes NATO.
Denmark, Spain, France, the Netherlands and the USA will be involved
Denmark is sending a frigate to the Baltic Sea and is preparing to deploy four fighter jets to Lithuania in support of a long-term NATO air police mission in the region. Spain is sending ships to join NATO naval forces and is considering sending fighter jets to Bulgaria.
The French have expressed their readiness to send troops to Romania under NATO command. Since April, the Netherlands has been sending two combat aircraft to Bulgaria in support of NATO air police activities in the region and putting the ship and ground forces on standby for the NATO Rapid Reaction Force.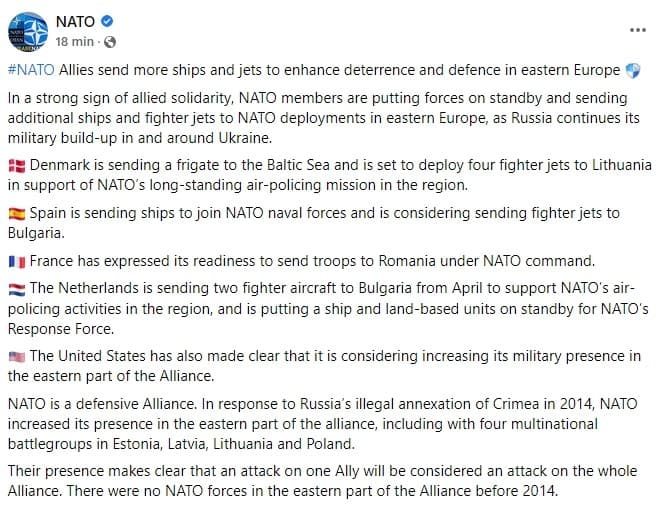 Photo gallery (3)
Source: Facebook / NATO
According to NATO, the United States has also made it clear that it is considering increasing its military presence in the eastern part of the Alliance.
NATO recalls that this is a defensive act in the eastern part of the Alliance
According to NATO, NATO is a defense alliance. "In response to Russia's illegal annexation of Crimea in 2014, NATO has increased its presence in the eastern part of the alliance, including four multinational battle groups in Estonia, Latvia, Lithuania and Poland." they state. "Their presence makes it clear that an attack on one ally will be considered an attack on the entire Alliance. Prior to 2014, there were no NATO forces in the eastern part of the Alliance." they add.