BRATISLAVA. When he evaluated the end of the qualification at the end of last year, he was a little worried and annoyed.
On Thursday morning, Štefan Tarkovič was already rather satisfied, calm and rested in front of the media. It's like you're exhaling.
He smiled more than usual.
He continues to coach the national team. Whereas before he received a contract for only one year, there is only two new contracts. He repeated what he had done several times before.
"It is a great honor to be the coach of the national team in which a person is born. I am glad that the executive committee headed by the president has given me the opportunity to continue. It is a responsibility," Tarkovich said.
He is a doctor of pedagogy. Štefan Tarkovič graduated from the Faculty of Physical Education and Sports.
Tarkovic: I appreciate 14: 0
He came elegantly dressed. With vest and patterned tie. It was not the first choice of the union's chief, but only the second, when the lure of Vladimir Weiss did not come out.
Trebárs, the former national team coach Dušan Galis, told Sportnet that he would not take office in such a case, that it would be humiliating for him.
"I do not perceive it negatively. I do not see the problem of how it was implemented. The contract ended for me and I perceive that the Executive Committee of the Slovak Football Association had room to decide how football will proceed," Tarkovič thinks.
"I appreciate that the vote was 14: 0. They could also address five candidates," added the old-new national team coach.
Coach Ján Kozák Sr. himself has much earlier described him as his ideal successor, who has all the prerequisites.
Tarkovich's popularity is declining
Tarkovich had the advantage that he knew the team best, the players love him. He benefits from it, he bases himself on a good relationship with the players.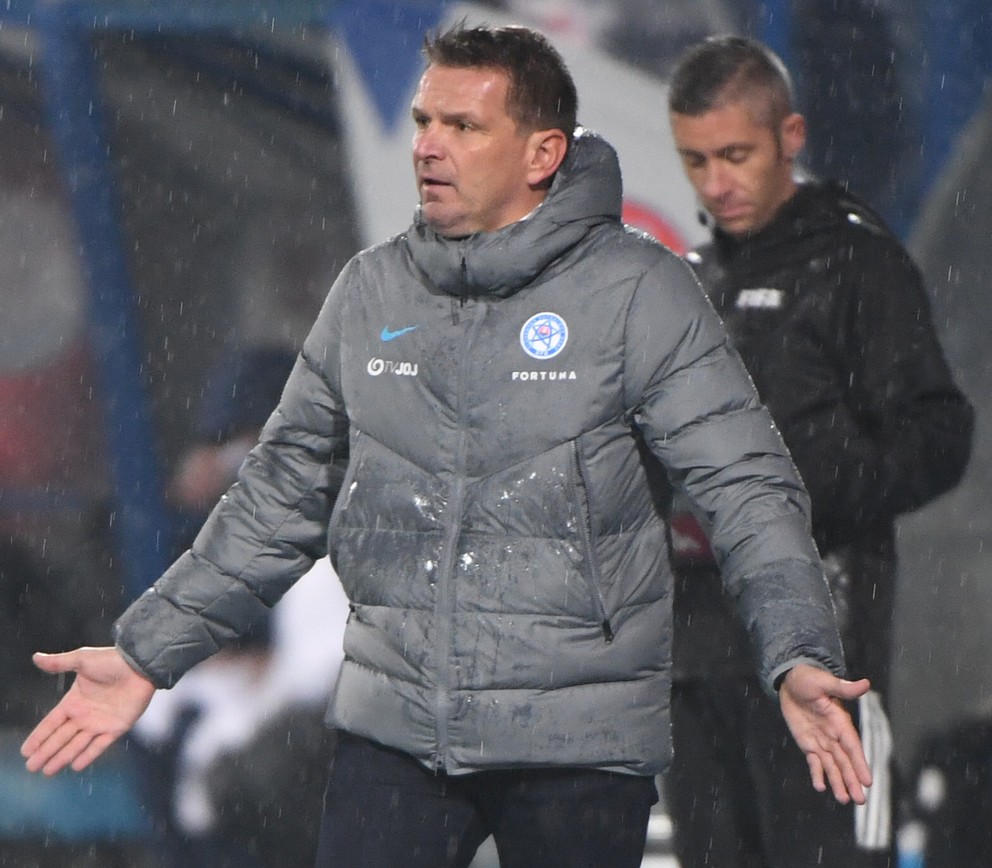 Coach Štefan Tarkovič. (Author: TASR)
He is the most successful assistant in the history of independence, which is why his engagement was initially welcomed by the public.
But that was last year. With increasing failures, public pressure on him became stronger. Tarkovich's popularity declined.
That is why a large part of the public welcomed his reappointment on social networks with outrage.
At the press conference, the coach was also asked if he did not want to make his speech more attractive to the public.
People don't read comments
"I do not want to analyze social networks. I do not read comments. I believe it must be wild there. However, I believe in the authenticity of each of you. "I'm not playing anything in front of you here," he smiled.
"I'm not saying I can't make fun of myself," Tarkovich added.
Jokes and collages are added to Tarkovič's jersey. How did he accept it?
"Slovaks are a very creative and creative nation, which has only been confirmed. I didn't see all of them, some of them came to me. I have to admit that some of them were really original, "he said recently in an interview with Sportnet.
Cooperation with Ján Kozák catapulted him to the absolute top, which is the function of the national team coach.
He does not see his new contract as a restart. "I take it more positively than a year ago, when there was no time for conceptual work. This year is better for working with the team.
There will be preparatory camps in March where I will be able to try things, "believes Tarkovič.
He counts with the same implementation team. He is not going to make major changes in the staff either.
They do not believe in radical cuts
"My first task will be to travel mainly to older players and talk to them as they see the situation. We know that in March 2023 they will be older again, "Tarkovič added.
Juraj Kucka and Marek Hamšík will celebrate thirty-five this year, Peter Pekarík is still a year older. Tomáš Hubočan ended his national team career a few days ago.
"For me personally, performance will decide. I do not believe in any radical cuts, it must be continuous, "Tarkovič said.
It has more than fifty players
He claims to be watching about fifty to sixty players. "We have them. There are also young people among them, "Tarkovič admitted
Slovakia is already waiting for a preparatory match in Oslo against Norway on March 25 and in Murcia against Finland on March 29.
The League of Nations will start in June. Tarkovic must advance from category C to level C. If he fails to do so, he will be fired.
"I will do my best. Our place is in the B-category. It is important to win such matches, it is important that the team learns, "Takovič concluded.