Slovak tennis player Filip Polášek and Australian John Peers made it to the 3rd round of doubles at the Australian Open grand slam tournament in Melbourne.
Photo:

DAN HIMBRECHTS / EPA / Profimedia
Filip Polášek and John Peers.

In Friday's 2nd round match, the home card holders defeated Rinky Hijikat with Tristan Schoolkat in 6 minutes 6: 1, 3: 6, 6: 1.
The seed five eliminated the Australian pair John-Patrick Smith, Luke Saville 6: 3, 7: 5 and started well against other representatives of the host country.
They broke their serve in the second and sixth games, did not face a single breakball, and turned their first set-up into their own service.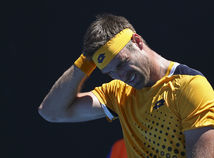 Read more Slovaks are saying goodbye. Gombosa defeated Čilič, Molčan gave his opponent a canary, but it was not enough
In the next act, however, Hijikata and Schoolkate won the break in the second game, they kept their serve and forced a decisive third set.
Polášek and Peers were in charge of it again, they started with a clean game and immediately broke through the opponents' service.
They won the second break in the sixth game and delivered the match to a successful end, when they turned the third ball.
Last year, Thirty-six-year-old Polášek triumphed at the AO alongside Croatian Ivan Dodig. With Peers, he has won last year's Masters 1000 in Indian Wells and the recent ATP in Sydney.
The Slovak was also supposed to introduce himself in the mix together with Belinda Benčičová, but the Swiss woman withdrew due to persistent health problems and consequences associated with overcoming the COVID-19 disease.
Men's Doubles Round 2:
Filip POLÁŠEK, John Peers (SR / Aus.-5) – Rinky Hijikata, Tristan Schoolkate (AUS) 6: 1, 3: 6, 6: 1