The Slovak Skiing Association (ZSL) today presented a ten-member nomination for the Winter Olympics in Beijing (February 4 – 20).
Photo:

TASR

,

Martin Baumann
Petra Vlhová in Schladming.

The nomination consists of five downhill skiers (Petra Vlhová, Rebeka Jančová, Petra Hromcová and brothers Adam and Andreas Žampovci), a quartet of representatives in cross-country skiing (Alena Procházková, Barbora Klementová, Ján Koristek and Peter Mlynár) and snowboarder Klaudia Medlová.
"The nominations of Petra Vlhová, Adam Žamp and Klaudia Medlová were clear at the beginning of the season, based on their previous results in the World Cup and championships.
Petra Hromcová and Rebeka Jančová secured their place at the Olympics through the qualification, which best matched the qualification criteria and thus complement the women's nomination, "said ZSL President Ján Krajčík in a press release.
During the downhill runs, it was confirmed that Vlhová did not complete the team competition. Twenty-six-year-old Liptáček and her coach Mauro Pini said this during the current season.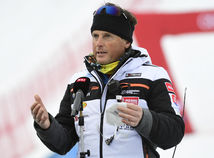 Read more Vlhová is the champion. However, today's success does not guarantee tomorrow's
The defender of the big crystal globe will focus on individual disciplines – slalom, giant slalom, super G, combination and maybe downhill.
"We will go to all disciplines except team competition. We will decide on the congress at the last minute, "said Pini.
Hromcová and 18-year-old junior Jančová will also perform in slalom, obrá and super G. Together with Žampovce, they will represent Slovakia in a team competition on 19 February.
An interesting situation also occurred among the runners. The fifth Winter Olympics awaits Procházková, and Mlynár got to her despite the fact that he ended his career shortly after the 2018 Olympic Games in Pyongyang.
"We are sorry that the place in the expedition to the Olympic Games narrowly escaped snowboarder Samuel Jaroš.
We place the highest expectations in Petra Vlhová and Adam Žamp in the technical disciplines of downhill skiing.
We believe in Klaudia Medlova that she will succeed in her priority discipline Big Air, "added ZSL Secretary General Radovan Cagala.
---
Petra Vlhová and her program in the season 2021/22
| | | |
| --- | --- | --- |
| Date of the event | Place and discipline | Location of Vlhovova |
| October 23 | Sölden – a huge slalom | 3rd place |
| November 13 | Lech Zürs – parallel slalom | did not start |
| November 20 | Levi – slalom | 1st place |
| November 21 | Levi – slalom | 1st place |
| November 27 | Killington – giant slalom | canceled |
| November 28 | Killington – slalom | 2nd place |
| December 3 | Lake Louise – downhill | did not start |
| December 4 | Lake Louise – downhill | did not start |
| December 5 | Lake Louise – super G | did not start |
| December 11 | St. Moritz – super G | did not start |
| December 12 | St. Moritz – super G | did not start |
| December 18 | Val d´Isere – exit | did not start |
| December 19 | Val d´Isere – super G | did not start |
| December 21 | Courchevel – giant slalom | 4th place |
| December 22 | Courchevel – giant slalom | 5th place |
| December 28 | Lienz – giant slalom | 2nd place |
| December 29 | Lienz – slalom | 1st place |
| January 4 | Zagreb – slalom | 1st place |
| January 8 | Kranjska Gora – giant slalom | 15th place |
| January 9 | Kranjska Gora – slalom | 1st place |
| January 11 | Schladming – slalom | 2nd place |
| January 15 | Zauchensee – exit | 26th place |
| January 16 | Zauchensee – super G | 18th place |
| January 22 | Cortina d'Ampezzo – exit | |
| January 23 | Cortina d'Ampezzo – super G | |
| January 25 | Kronplatz – giant slalom | |
| January 29 | Garmisch Partenkirchen – downhill | |
| January 30 | Garmisch Partenkirchen – super G | |
| February 7 | Beijing Olympics – a huge slalom | |
| February 9 | Beijing Olympics – slalom | |
| February 11 | Olympic Games in Beijing – super G | |
| February 15 | Olympic Games in Beijing – Congress | |
| February 17 | Beijing Olympic Games – combination | |
| February 19 | Beijing Olympics – team competition | |
| February 26 | Crans Montana – exit | |
| February 27 | Crans Montana – exit | |
| March 5 | Lenzerheide – super G | |
| March 6 | Lenzerheide – giant slalom | |
| March 11 | Are – a huge slalom | |
| March 12 | Are – slalom | |
| March 16 | SP final in Courchevel – downhill | |
| March 17 | SP final in Courchevel – super G | |
| March 18 | SP final in Courchevel – team competition | |
| March 19 | SP final in Courchevel – slalom | |
| March 20 | SP final in Courchevel – huge slalom | |
Overall World Cup standings (after 22 of 37 competitions): 1. Mikaela Shiffrin (USA) 966 b, 2. VLHOVÁ 929, 3. Sofia Goggio (ITA) 669, 4. Sara Hectorová (Sweden) 582, 5. Brignone 547, 6. Gutová-Behramiová 469
Slalom standings (5 of 9): 1. VLHOVÁ 580 points, 2. Shiffrinová 340, 3. Holdenerová 321, 4. Liensbergerová (AUT) 262, 5. Dürrová (DEU) 252, 6. Gisinová (CHE) 187
The order in FIG. slalom (after 5 of 9 races): 1. Hector 362, 2. Shiffrin 316, 3. Worley 307, 4. VLHOVA 251, 5. Bassin 160, 6. Siebenhofer (AUT) 130
Super-G ranking (5 of 9): 1. Goggio 332 b, 2. Brignone 327, 3. Elena Curtonio (ITA) 248, 4. Gut-Behramio 206, 5. Shiffrin 205, 6. Ragnhild Mowinckel (NOR) 172,… 42. VLHOVÁ 13
Congress ranking (4 of 9): 1. Goggio 300 points, 2. Breezy Johnson (USA) 240, 3. Siebenhofer 184, 4. Suterová 181, 5. Mirjam Puchnerová (AUT) 166, 6. Delagová 162,… 39. VLHOVÁ 5
Order of parallel competitions (1): 1. Slokarová 100, 2. Stjernesundová 80, 3. Lysdahlová 60, 4. Bassinová (ITA) 50, 5. Hectorová 45, 6. Monsenová (NOR) 40
© Copyright reserved