With a few exceptions, the snow is bypassing western Slovakia. The last heavy snowfall was in early December, and since then there has been no snow or hearing after the snow. Most of all, of course, it snows in the mountains and in the north of Slovakia.
Meteorologists from the Meteo Slovensko portal warn that this may change in the coming days. "The weather in Slovakia will bring more snow, showers, but also colder weather. Western Slovakia will also experience snowfall during the first days of this week, but a lot of snow should not fall., " stated on the social network. They added that it would be different in the mountains, where 5 to 10 centimeters of new snow should fall by Monday, January 24, because it is supposed to snow continuously and in waves. But even that will change in a few days.
"The latest runs of numerical models, and especially the ECMWF model, are literally surprising. The aforementioned forecast model is suddenly and unexpectedly starting to draw a snowfall for western Slovakia at the end of the week, " they pointed out that for the far west of Slovakia, which also includes Bratislava, it could mean up to 30 centimeters of snow.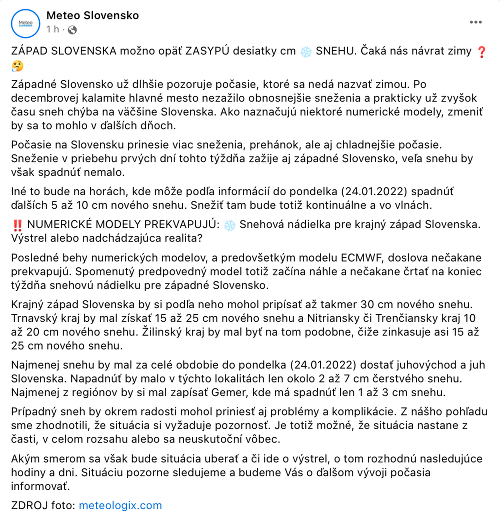 Photo gallery (4)
Source: FB / Meteo Slovakia
For the Trnava region it will mean 15 to 25 centimeters of snow and for the Nitra or Trenčín region 10 to 20 centimeters, as well as for the Žilina region. "The southeast and south of Slovakia should get the least snow for the whole period until Monday (24.01.2022). Only about 2 to 7 cm of fresh snow should fall in these localities. The least of the regions should register Gemer, where only 1 to 3 cm of snow should fall, " clarified that possible snow can bring not only joy but also several problems and complications. However, it is still necessary to take into account that a lot may change by the end of the week and the forecast may not be fulfilled at all or only partially.
However, the Slovak Hydrometeorological Institute also draws attention to the snowfall. In his long-term forecast, he warns that it will snow for almost the whole week – from Thursday to Wednesday of next week. Most of the snow should fall on Tuesday, up to 15.3 millimeters in 24 hours.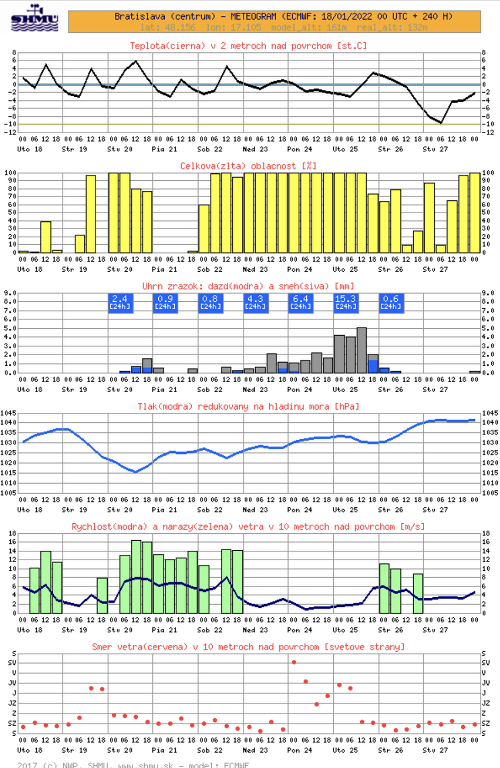 Photo gallery (4)
Source: SHMÚ
Another snow is falling on Slovakia POHROMA: Tens of centimeters will fall! Bratislava residents in particular should be on the lookout