Slovakia has decided to introduce a new "OP +" regime, which will govern some services, operations or mass events from Wednesday, following the example of some neighboring countries. While so far they have been fully vaccinated, the rules have changed again. These people will also have to do something extra. Forget the transitional period. However, there is also the payment of tests in the game.
VIDEO Minister of Health on the 4th dose: We are not considering it yet, in other countries they have vaccinated people earlier
Even the fully vaccinated will have to do something extra in the new regime
The OP plus regimen requires either a booster dose, a negative test, or an overcoming COVID-19 disease from fully vaccinated individuals. It does not seem fair to many vaccinees, as they have done everything so that they can live relatively normally and with the least possible restrictions. Nevertheless, it will not be enough for the fitness center, hotel, wedding or wellness.
BOOSTER BATCH
If you have already received a booster dose now or last year, you have no problem. You are considered fully vaccinated immediately after the third dose. In Slovakia, however, you can currently receive it three months after the second dose, respectively. eight weeks after administration of the single-dose vaccine. Therefore, if you were vaccinated with the second dose in December or during January and you did not overcome COVID, you will not enjoy the benefits of the OP plus regimen without the test.
We therefore asked the Ministry of Health whether a transitional period would apply to the vaccinated diapers in this case. "No. They can be tested by antigen or PCR test. The fact is that the OP plus regime is also focused on a low number of activities." Zuzana Eliášová, a spokeswoman for the Ministry of Health, clarified for Topky.
OVERCOMING COVID-19
If you cannot go to the third dose yet, or you do not want to take it, you meet the OP plus regime if you have overcome COVID. But even here, change is taking place. However, this applies to other regimes, not the OP plus regime. This is because the accepted time of overcoming remains 180 days. In the other regimes (base, OTP and OP) the time was reduced from 180 to 90 days.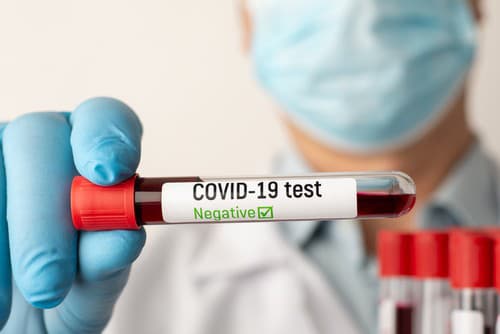 Source: Getty Images
So why did the ministry reduce the deadline for overcoming COVID from 180 to 90 days only in these cases? "This was a proposal by epidemiologists and infectologists, given that overcoming the delta variant represents minimal protection against the omicron variant," Elijah clarified.
NEGATIVE TEST
Therefore, if you cannot be vaccinated with the third dose and you have not overcome the disease, you will need to obtain a negative test in the OP plus regimen. Whether PCR or antigen. You will not be overpaid at the moment, but the resort is discussing such a possibility. "This is a matter of debate. The fact is that the antigen test is available for a handling fee of 5 euros," Elijah said.
Exceptions for those who cannot be vaccinated also apply in the OP plus regime
A special group are people who cannot be vaccinated for objective reasons. Their position and whether they will have an exception has been debated for a long time. The resort came to a conclusion a few days before Christmas. This group eventually received an exemption, they can claim it on the official form. The person will be assigned a QR code, which will be able to prove that they belong to the OP group and cannot be vaccinated.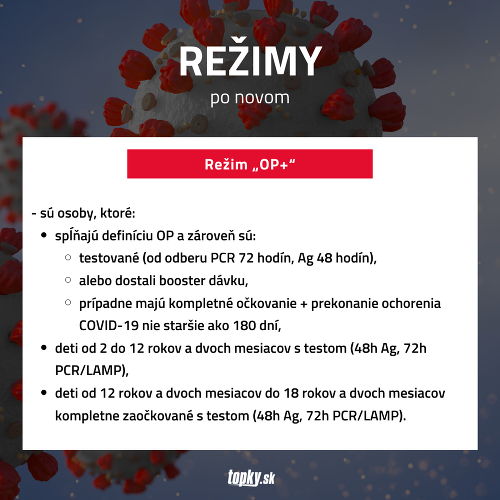 "However, these people will be required to have a PCR test at mass events and other events, but it will be free for them. We need to know the types of contraindications and the specific doctors who prescribe them. Unfortunately, there were doctors who issued a lot of these certificates. we want to control that, " said Lengvarsky in December in an interview with Topky.
The doctor will be responsible for the form. "There are few contraindications as such, such as allergies to any component of the vaccine, and then there are other professional diagnoses, but these are temporary contraindications. There may be a few dozen, maybe hundreds of permanent ones." Otherwise it will not be in the OP plus mode either. "They should be retested – this applies to both the OP and OP plus regime," Eliášová answered the question whether the exception for this group also applies in the new regime.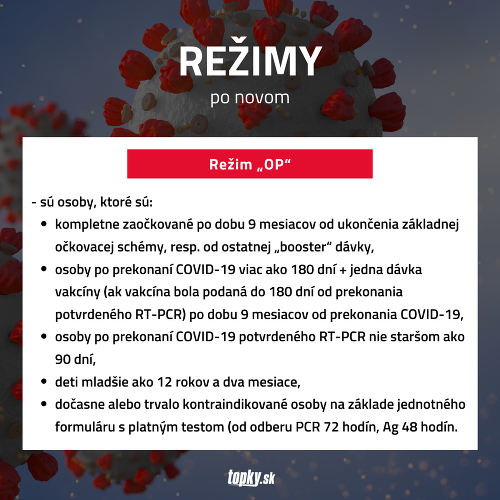 OTP regime in taxis without exception
Another novelty is the OTP regime in taxis, which have been added to trains, long-distance buses, ski lifts and cable cars. In this case, too, no exception will apply, even if it is a necessary case in which you would like to use the taxi service. "An emergency medical service is available in case of health problems," Elijah added.

OP + mode is not a new idea
The head of the Internal Department of the Považská Bystrica hospital, Milan Kulkovský, praised the change in the measures. "It is a sign of the will to find compromises and adapt to the current situation. The OP + regime is not a new idea, it also works in other countries, such as Germany. It is a reaction to the fact that a relatively large part of the population dose of the vaccine and therefore allows this group of people to relax measures more vigorously, " he said for Topka.
There was plenty of time for vaccination
According to him, the risk of a serious course of the disease and the associated hospitalization is minimal in this case, and blocking these people loses its meaning. "I really don't think that those who are already fully vaccinated and even given a booster dose should be restricted because of people who are not willing to be vaccinated and have trouble complying with other measures. The degree of risk must be considered by each "It seems reasonable to me that if we are talking about high-risk operations or events, it will be necessary to prove a negative test for two doses without a booster." added to the margin measures.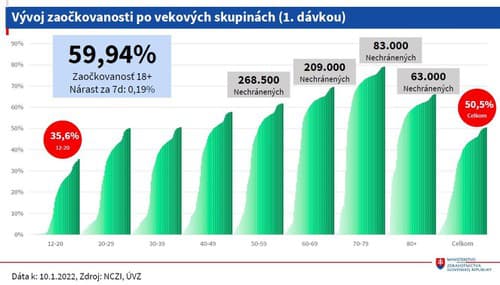 These four measures would suffice
Immunologist Vladimír Leksa told Topky that the new measures, which the government approved this week and which will enter into force on January 19, are, according to the immunologist, complicated and complicate life, especially for the vaccinated. that there are four measures that would already suffice in this situation. The new measures contain the same mistakes as all the measures that were introduced in our country during the pandemic, the immunologist thinks. "Measures should be clear, simple, precise and stable," he said for Topka, saying that in the current situation it would be enough to follow four basic measures. "First of all, hospitals and paramedics need to be supported," Leksa stressed.
"Secondly, since we have been given extra time, it is necessary, as long as we can, to push as hard as possible to vaccinate those who have not done so before. If they do not, it is necessary to limit them in particular. to cope faster and with less damage to the health of citizens and society, " suggested.
Thirdly, according to Leks, it is necessary to strictly require the wearing of respirators indoors. "And fourth, with any respiratory illness, you don't even have to test whether it's COVID or not, you have to stay home and not spread it. These four measures are enough." stated. However, according to the immunologist, the new measures approved by the government this week, which will enter into force on January 19, are complicated and complicate life, especially for the vaccinated.
The fourth dose is not yet being considered
Experts and doctors continue to recommend being vaccinated. It is currently the most effective anti-coronavirus weapon. When overcoming, you are not sure whether your body will produce enough antibodies or not. In some countries it is already vaccinated with the fourth dose, in Slovakia it is not considered yet, as we have only recently started vaccinating with the third dose, which should be sufficient in the case of omicron wool.
Vaccines also provide protection against omicron
Although vaccines have not been developed against all variants, they still provide high protection. The State Institute for Drug Control on the social network stated that precisely because the omicron variant is extremely contagious, vaccinated people can also become more infected. However, even with the omicron variant, vaccination provides a high degree of protection against severe disease and hospitalization.
"According to the latest evidence, the booster dose provides better protection against the omicron variant than the basic vaccination schedule." added ŠÚKL. Data from South Africa show that people vaccinated with two doses have about 70 percent protection from hospitalization. "According to data from the United Kingdom, protection against the disease is declining over time, but even a few months after the booster dose, the vaccine protects against hospitalization by up to 90 percent." pointed out ŠÚKL.
Omicron is more dangerous for the unvaccinated
However, the omicron variant is still dangerous, especially for the unvaccinated. This was stated by the World Health Organization (WHO). "Although omicron causes a less severe course of the disease than the delta variant, it is still dangerous, especially for unvaccinated people." WHO Director-General Tedros Adhan Ghebreyesus told a news conference. He added that humanity must not allow the virus to spread freely, especially when a large number of people are still unvaccinated. The WHO chief also reminded that the "vast majority" of people hospitalized with covid around the world were unvaccinated.
However, according to a South African study, unvaccinated people are less severe in omicron disease and are less likely to end up in hospitals or die than delta, which has been the deadliest option so far. Omicron is less virulent and has up to 90 percent lower mortality than delta.