VIDEO Matovič responded to Kollár's words on the social network yesterday:
The conflict began after the check was sent
"Mr. Matovic, you just sent my mother-in-law a check for your famous 300 euros. You also thanked her for the example she gave to other people around you. And that you wish her good health." Kollár began criticizing the Minister of Finance, but immediately explained why this step was inappropriate by the ministry. "Only that good health will probably be a problem. She died a month ago. We buried her a week before Christmas. A week after the new year, she received a good health wish from your ministry." criticizes the Kollár resort.
You have a shamed operation, go to a corner to be ashamed, Kollár continues
Kollár was touched emotionally and mentally by the fact that funds with good health come to people who are no longer in this world. "I think you have – as they say – operated on shame. But still please – finally go somewhere in the corner to quietly be ashamed and don't get out of there. Before you definitively destroy this beautiful country. And tell your colleagues in the ministry, let them update the population register data, " Kollár kicked at Matovič.
I'm sorry you have to have such a mayor, Matovic said
Matovic captured these words of the non-attached deputy and owed him nothing. "I am very sorry for the mayor of Hlohovec and all the inhabitants of the town of Hlohovec, because having a mayor who abuses the death of his own mother-in-law for politics is really extremely pathetic," Matovic said at a press briefing on Thursday about postponing the remuneration deadlines for seniors.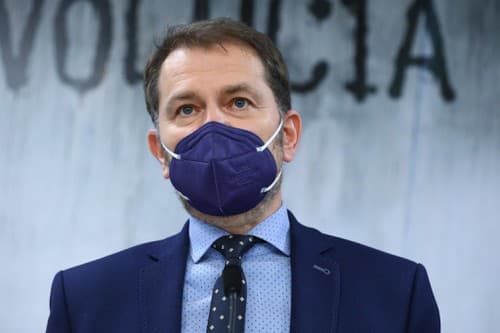 Source: Topky / Ján Zemiar
According to Matovič, Kollár abused his mother-in-law's death for politics
"A man who does not hesitate to abuse the death of his own mother-in-law to muster about what a terrible thing has happened. His mother-in-law died a few days before Christmas, when we had already sent the database to the post office. she died two days or so before Christmas, we sent 300 euros. Instead of thanking you, you wanted to pound with power. " former Prime Minister Matovič addressed Kollár's harsh words. He recalled that this money, like any other person's death, would be the subject of inheritance proceedings. "The 300 euros belong to Mr Kollár's mother-in-law because she has met the conditions and will be the subject of inheritance proceedings," he explained.