Jonhap reported on Friday, referring to the Korea Central News Agency (KCNA). "If the United States takes such a confrontational position, then the DPRK will be forced to take stronger and more determined retaliation." KCNA quoted a representative of the DPRK Ministry of Foreign Affairs. The statement also said the missiles were an exercise in North Korea's right to self-defense. The sanctions were imposed after a test firing of North Korean missiles on January 5 and 11 this year.
In the second case, to successfully test the flight of a hypersonic rocket, which "accurately hits a target 1000 kilometers away", overseen North Korean leader Kim Jong-un, KCNA wrote. According to Kim, this missile will significantly strengthen the nuclear "war deterrents" his homeland. In response to these tests, the US Treasury Department said it was imposing sanctions on five DPRK officials for their role in acquiring equipment and technology for the DPRK's missile program. In addition, the US State Department has imposed sanctions on another North Korean, Russian and Russian company for their widespread support for North Korean weapons of mass destruction activities.
US Secretary of State Antony Blinken said on Thursday that North Korea was trying to attract attention by testing its missiles. "She has done it in the past; she will probably continue to do so," Blinken said in a television interview with MSNBC. According to him, the North Korean missile tests are "deeply destabilizing. "It is dangerous and it contradicts a number of UN Security Council resolutions," Blinken warned.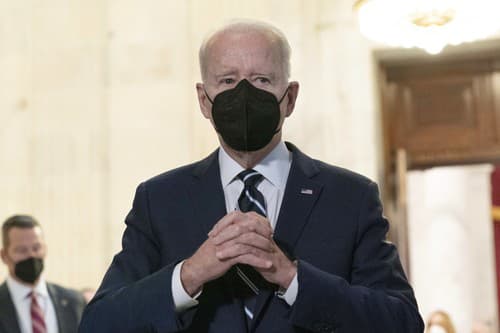 Source: SITA / AP Photo / Jose Luis Magana
The chief of American diplomacy has once again called on North Korea to negotiate with the United States, which he said has no "hostile intentions" against the Kim Jong-un regime. Negotiations between the US and the DPRK have been deadlocked since Kim had three meetings with former US President Donald Trump. However, the talks did not lead to a lasting agreement, and North Korea did not show interest in the lower-level diplomatic offers made by the administration of Trump's successor, President Joe Biden, the AFP said.
The DPRK fired another unidentified missile
North Korea fired another unidentified missile to the east on Friday, the South Korean army said. The AFP agency informed about it, according to which it is probably the third missile test by the DPRK in a little over a week. The missile was announced by the Corps of Chiefs of Staff of the South Korean Army, stating that it was not yet clear whether it was a new ballistic missile test. According to the DPA, it was also unknown how far the bullet was fired.
The Japanese Coast Guard said it had noticed "launching what appears to be a ballistic missile or a North Korean missile". A Coast Guard spokesman told AFP it was still analyzing where it had landed and whether it was one or more of the facilities. North Korea successfully tested a supersonic missile on Monday. It was the second firing of such a projectile in less than a week, the first occurred on January 5. In response, US President Joe Biden's administration imposed sanctions on five North Korean officials on Wednesday. North Korea warned on Friday that it will be forced to take decisive retaliation in response to sanctions imposed by the United States over the recent rocket fire.