The biggest source of funding for the parental bonus in 2023, when it should come into force, is the improvement in premium collection in the SP from the economically active population. The collection improved already in 2021. In numbers, the minister illustrated that while the budget for 2021 provided for the collection of premiums of 9.311 billion euros, the actual collection was 9.555 billion euros.
Another source is pandemic change
That is 244 million euros more for last year. The budget in 2021 in the forecast for 2023 provided for the collection of premiums in the amount of 9.003 billion euros, in 2022 it was already 9.390 billion euros. Which is 387 million euros more, but the minister speaks of a conservative estimate, which envisages a higher than estimated collection of premiums from economically active people in 2023 by 310 million euros.
According to the Minister, the second source of financing the parental bonus is the saving of SP expenses by EUR 140 million, thanks to the amendment to the Social Insurance Act of 2020 and other measures in SP. Another source of funding is pandemic changes in the demographic structure of the population of Slovakia. In 2023, € 200 million less in old-age pensions will be paid for deaths.
Parent bonus financing
The SP will also have additional revenues from the introduction of levies on the 13th and 14th salaries in the amendment to the Social Insurance Act, and the Minister expects additional money from the dynamic effects of the payment of the parental bonus. He talks about additional revenue from the collection of value added tax (VAT) of 15%, so in 2023 it would be about 82 million euros.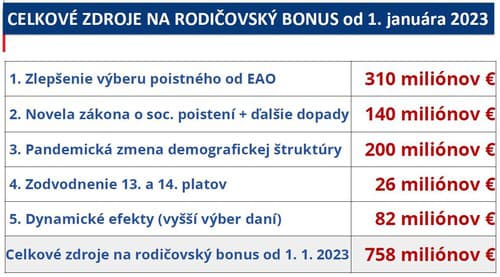 As Krajniak summed up, the parental bonus will cost a maximum of € 550 million in 2023. The mentioned resources amount to 758 million euros, so there is a reserve of 208 million euros. However, the Minister also highlighted another additional reserve source, namely the debt relief of hospitals, to which Slovakia committed itself in the recovery plan. The total debt of hospitals to SP is at the level of more than 300 million euros. These should reach the SP treasury in 2022 and 2023.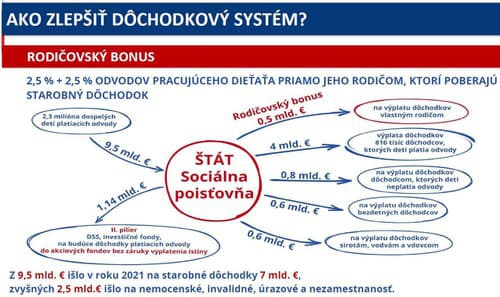 Krajniak also indicated that negotiations with coalition partners on the parental bonus are being made with nine proposals on how the start of the parental bonus should be implemented. He outlined that the parental bonus could have a ceiling, the introduction of such a ceiling would save tens of millions of euros, according to the minister.