The weekend was again marked by political discussions in which both coalition and opposition politicians met. And the number one topic was coronavirus and vaccination again. However, many experts did not like the style of discussion of young Erik Kaliňák. Among other things, he pointed out the great benefits of ivermectin for the treatment of severe coronavirus.
Archive VIDEO The Consortium proposes to extend the LOCKDOWN until 16 December, a novelty could be the OTP regime in trains and buses
His words got into the corkscrew, for example, a data analyst and former member of the Data without Pathos project, Jakub Tillinger. As he said, what Kaliňák said on public television left his mind to stand still. He called the young quarterback's words nonsense. "Turn off the news, stop listening to delusions from pseudo-experts, do not read nonsense on social networks, do not listen to political leaders who scare, mislead and deceive you (especially Kotleba, Uhrík, Mazurek, Taraba, Blaha, Fico and their companions) and finally wait! " Tillinger wrote angrily. He then pointed out the statuses of two doctors directly "by the way" – infectologist Petr Sabaka and anesthesiologist Jakub Hložník. Both work in COVID departments.
Mr. Fico, come take a look at JIS
Sabaka, like Tillinger, criticized the words of another politician – specifically the head of the Direction, Robert Fico. "There may be some 15 percent interest in helping those people get vaccinated, but that balance is purely a matter of increasing the revenue and profits of pharmaceutical companies." Sabaka quoted one of Fico's statements. And then he commented on it. As he explained, in encouraging people to be vaccinated, he never had any interest in helping them and thus prevent unnecessary suffering or collapse of hospitals. At present, the vast majority of patients hospitalized in hospitals are unvaccinated and in very severe conditions. Even if people are fully vaccinated in the hospital, it is usually due to older age and associated illnesses.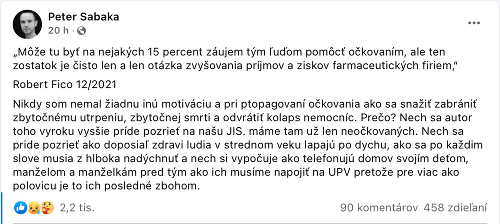 Source: FB / Peter Sabaka, Jakub Hložník, Jakub Tillinger
Why? how they call home to their children, husbands and wives before we have to connect them to artificial lung ventilation, because for more than half it's their last goodbye, " said Sabaka.
The third wave is also a wave of ruthlessness
Jakub Hložník, head of the department of anesthesiology and intensive care of the Antolská Hospital, also published his position on the whole matter. He currently works in the COVID department. He published the experiences of the weekend service, during which three patients were admitted to the ARO for artificial lung ventilation. They were all vaccinated. It was one lady and two men. "The lady was brought by ambulance unconscious, two of them refused intubation and connection to artificial lung ventilation until the last moment. One threatened to kill me, the other still managed to physically attack our doctors and nurses. Now they are in artificial sleep on ARE with heavy lung failure caused by the SARS-CoV-2 virus, " Hložník explained.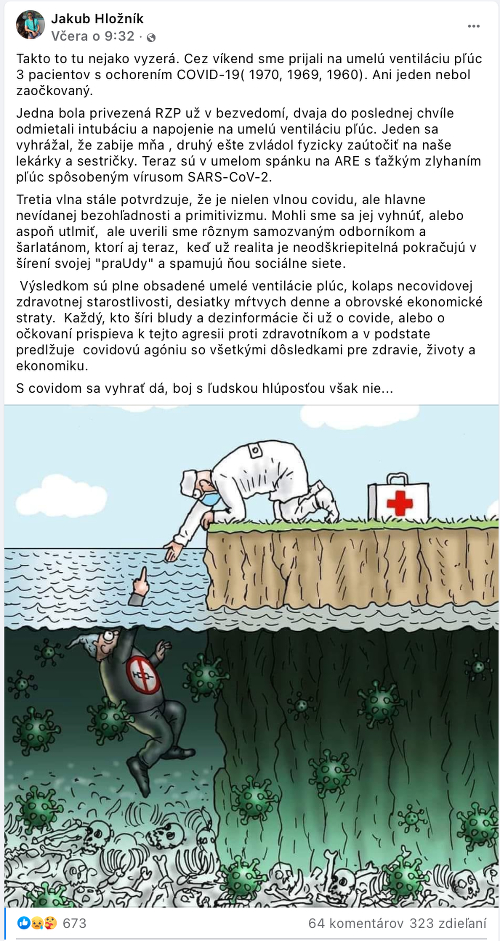 Source: FB / Peter Sabaka, Jakub Hložník, Jakub Tillinger
As he added, the third wave is not only a wave of coronavirus, but also ruthlessness. In his opinion, we didn't have to be so bad if we didn't believe the words of various charlatans and self-proclaimed experts who spread various lies and hoaxes and continue their "work" even now. "The result is fully occupied artificial lung ventilation, the collapse of non-civic health care, dozens of deaths per day and huge economic losses. Anyone who spreads delusions and misinformation, whether about covides or vaccinations, contributes to this aggression against health professionals and essentially prolongs the covid agony with all "The consequences for health, lives and the economy. You can win with covid, but not the fight against human stupidity." concluded Hložník.