Coach Pavel Streicher's charges lost high to the Spaniards on Friday night at 15:35, and they were unable to keep up with the reigning vice-champions of the world throughout the duel.
Already after the first half, the Slovaks lost by a double-digit difference of 8:19, after the change of sides, the picture of the game did not change and the lead of the home team increased even more.
Spain – SLOVAKIA 35:15 (19: 8)
Slovakia squad and goals: Oguntoyová, Medveďová, A. Ivanicjová – Trúnková 3, Dulinová, Popovcová, Štefaniková 1, R. Bíziková 3, Pócsíková, S. Szarková, B. Lanczová 2, Rebičová 2, Bajčiová 2, Holejová 1, Hudáková, B. Bíziková, N Némethová 1. Judges: Rodríguezová Estévezová and Garcíová Gilová (both Šp.)
Next result: Poland – Germany 27:31 (13:13)
"From the first second, nothing we wanted to play worked for us. It started with a game on the defensive and the offensive defense of the opponent caused us great problems in the attack.
In addition, even if we got into chances, we could not use them due to poor efficiency, so there was a huge difference in the score.
Each of us is aware that we can play better handball than we have shown. Our task is to do everything we can to present ourselves against a strong Germany in a much better light, "said coach Streicher according to the official website of the Slovak Handball Association (SZH).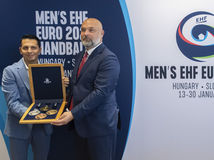 Read more Shame on the horizon: Slovaks in January host the European Handball Championship and need money
Only 15 goals scored is a bad business card for the Slovak team. The best shooters in the selection of the Slovak Republic were three-goals Réka Bíziková and Nikoleta Trúnková.
The Slovak players have a chance to repair themselves on Saturday, when they play against the Germans from 4 pm, who defeated the Poles on 31:27 on Friday.
The German handball players will also be Slovaks' rivals in the basic group at the world championships. They will say goodbye to the tournament on Sunday with a duel against the Poles from 11:00.