In addition to the traditional "hot" notes of the Phocaean after Galatasaray-OM (4-2), here are the "official" notes, detailed and completed by the various Phocéen journalists and their readers. In video, find the Tops and the Flops.

Here are the notes for the Phocéen team of Romain Haering, Jérémy Attali, Christophe Champy and Stephane Brenguier. Finally, also find the traditional Phocean of the match.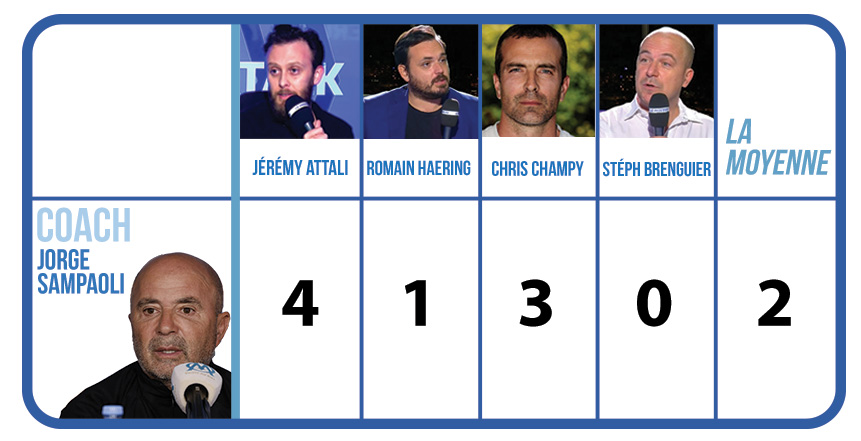 The Phocean of the match is …
After OM's defeat against Galatasaray, the Phocaean of the match is Arkadiusz Milik with an average rating of 4.9. Then follow Bamba Dieng (4.7) and Mattéo Guendouzi (4.4).

Also find the general classification of the season. As a reminder, only players who have been rated at least half of OM's matches are specified in this ranking.
The average scores for each player
| Square | Player | Your notes | Our rating | Avg. |
| --- | --- | --- | --- | --- |
| 1 (10) | Milik Arkadiusz | 4.7 | 5.0 | 4.9 |
| 2 (-) | Dieng Bamba | 4.8 | 4.5 | 4.7 |
| 3 (4) | Guendouzi Mattéo | 4.3 | 4.5 | 4.4 |
| 4 (-) | Lopez Pau | 3.2 | 3.5 | 3.4 |
| 5 (9) | Lirola Pol | 3.1 | 3.5 | 3.3 |
| 6 (7) | Peres Luan | 2.7 | 3.5 | 3.1 |
| 7 (3) | Saliba William | 3.1 | 2.5 | 2.8 |
| 8 (6) | Caleta-Car Duje | 2.8 | 2.5 | 2.7 |
| 9 (-) | Gueye Pape | 2.5 | 2.5 | 2.5 |
| 10 (12) | Gerson Santos da Silva | 2.0 | 2.5 | 2.3 |
| 11 (-) | Kamara Boubacar | 2.2 | 2.0 | 2.1 |
The general classification