What is the current situation at the COVID department?
-The floor on which we are located is divided into two departments – with the so-called white medicine and the COVID department. There are patients in the "white" ward who do not have COVID-19, but other lung wards. In principle, this corridor remained the only one available for these patients. I can also see from this how much the usual interventions and care of all other patients with so-called white diseases.
As for the hospital, it can be said that the number of patients in need of hospitalization is growing at a tremendous rate. The hospital management is trying to look for reserves on a regular basis so that we can expand the number of beds for patients with COVID-19 who require hospitalization as much as possible. Many departments have reprofiled, which has changed their focus.
What is the current capacity of beds in the COVID department and how are they occupied?
-We currently have 15 beds and all are occupied. Practically – one patient leaves, another comes almost immediately. The situation is very similar at other workplaces within the Ružinov hospital.
What makes the delta insidious? It is said to affect young people as well – what are the youngest years in the ward? Do they have associated diseases?
-In the first place, we must realize that the coronavirus is very pathogenic for humans, it is a specific virus in which the immune response to it is not as standard as in other types of viruses. This means that it tends to escape our immune system and leave a short-lived immunity, so virus reinfections are possible. The delta variant is characterized by being very virulent and very easy to transport. If a person who is not protected by the vaccine or does not have immunity comes into contact with it after a recent infection, they are very likely to become infected, which is a huge problem. In our ward, we see that the course of the disease is very fast and difficult since the patient comes from the house to the hospital. Within the hospital, the age categories of patients vary. Unfortunately, we are also adding those from relatively younger age categories. These are mainly middle-aged people.
And are they vaccinated?
-From my experience, and from other departments of the hospital, I can say that the vast majority of hospitalized patients have not been vaccinated. If a vaccinated patient appears in bed, they are elderly who have been vaccinated in the early spring months and their level of protection has fallen.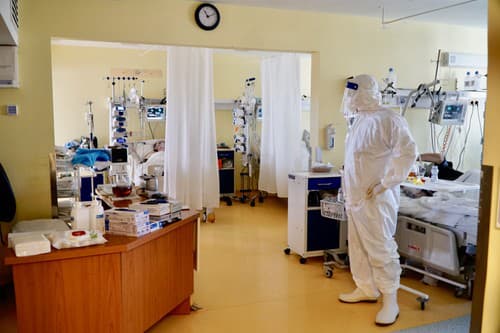 Are associated diseases also a problem?
-Yes, all vaccinated patients have associated diseases. For example, even in the case of younger grades who have been vaccinated and jumped in a hospital, there is almost always a more serious associated illness. Then the activity of the immune system is lower and therefore it is not so reliable to "catch" with the virus. In the case of the unvaccinated, among those hospitalized are mainly those who do not have any serious associated diseases.
How long does it take to stay in the COVID ward on average?
-It depends on the stage of the disease at which the patient comes, on his immune system and other factors. If we have hospitalized patients who are in good baseline biological condition and come from younger years, then the hospital stay is at least a week, but for example, patients who require support at the level of artificial lung ventilation, hospitalizations can take months. If the patient is hospitalized for such a long time, it leads to a significant reduction in quality of life or performance. COVID-19 can have very serious lifelong lasting consequences. And it leaves.
On average, how much is one day of hospitalization in the COVID ward?
-It's very difficult to say so globally. One thing is the real costs, as well as how they are quantifiable under the DRG system classification system, which allows to classify hospitalization cases according to diagnoses, diagnostic and treatment procedures into groups with a similar clinical course and similar economic costs – note. editorial staff). But, for example, during the second wave, we had a patient who required not only hospitalization on a regular bed, but also support for artificial lung ventilation, and the price of basic services and medication, which by no means reflects the real cost of treatment, climbed to 94,000 euros. This is a really high amount. In comparison, the usual hospitalizations of patients in the pulmonary intensive care unit range from 2 to 3 thousand.
VIDEO Primary Laššan: The doctors are tired, they didn't expect it to be so bad!
Do you perceive a difference during hospitalizations during the second wave of the pandemic and when we have a delta here?
-It is difficult to assess so far, we would have to comprehensively evaluate the entire patient population, but delta has so far proved to be a much more contagious variant of the virus, where there is faster progression to severe clinical conditions with respiratory or multiorgan failure.
What drugs do you use to treat coronavirus and severe events?
-We have more information than we had in the spring, that's paramount. Experience has shown that some drugs are not suitable for the treatment of coronavirus and we no longer use them. We tried them, they didn't work, so we ended up with them. During the spring wave of the pandemic, hydroxychloroquine in particular was recommended worldwide, followed by ivermectin, which quickly proved to be ineffective in the treatment of coronavirus. We are currently setting up treatment depending on the severity of the patient and when he or she comes to the hospital from the onset of the disease. For us, this is two very important pieces of information that we need to know. It cannot be said that each of these patients has the same treatment.
If the patient arrives relatively early and the problem is still the multiplication of the virus in the body, ie this is the period of the first seven to ten days after infection, then in such patients also take the so-called. virostatics. In addition, we administer supportive drugs, vitamins or drugs to affect blood clotting. If the patient arrives later and in a relatively bad condition, the body – immune system practically damages itself in uncontrolled inflammation, we also use other drugs – such as corticoids, or drugs that are used to treat some autoimmune or rheumatic diseases. Of course, almost every patient requires high oxygen flows or some higher form of support for a failing respiratory system – high-flow nasal cannulation or non-invasive pulmonary ventilation.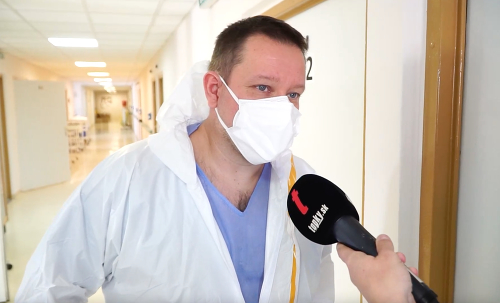 So you can say that you do not use ivermectin for the treatment of coronavirus, as reported by some antivaxers on social networks …
-We tried in the very beginning, we didn't see any effect there. However, many recent studies and their meta-analyzes have not shown that this drug has any clinically relevant effect on the treatment of COVID-19. Therefore, we use drugs that have been shown to help the patient treat a new coronavirus infection.
Do you see a difference in the length of hospitalizations between vaccinated and non-vaccinated people?
-If vaccinated people get sick, the course of the infection is usually milder and very rarely it reaches such a state that a higher form of support for respiratory failure would be needed, such as high-flow ventilation or non-invasive ventilation, or not artificial. pulmonary ventilation. In general, vaccinees tend to recover. Of course, it is still necessary to think of a certain group of people who, despite vaccination, may have a severe coronavirus course for various associated diseases.
You mentioned that you also create treatment according to the condition of the patient coming to the hospital and the course of the course. What period of time does it usually go from infection to the moment when patients are already calling for help?
-Again, this is a very individual matter. It is true that most people overcome this disease with mild symptoms, possibly as an influenza-like illness. On the fifth to seventh day, some patients experience a negative break, in which the patients' condition worsens instead of recovery, and then they come to the hospital. In the second wave, on the other hand, it was a little later since the infection, now it's an average for the seventh day. However, it all depends on the patient and how his immune system copes with the infection.
During the second wave, the patient's condition gradually improved, but subsequently deteriorated rapidly within a few hours. Do you still encounter this problem?
-This situation can actually occur in any patient – whether with a coronavirus infection or pneumonia. We have encountered such an unfavorable development of the clinical condition, especially in the case of vascular complications. At that time, the patient's condition gradually began to improve, especially with regard to pulmonary findings, but subsequently there were spontaneous blockages of blood vessels – embolizations, strokes, we also had a patient with myocardial infarction, or those who bled spontaneously. Apparently, such cases will also occur during the current third wave.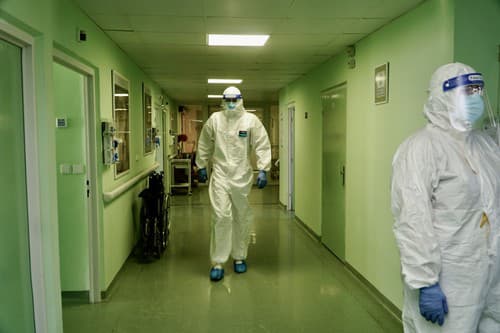 Have you encountered the fact that you have a hospitalized patient here – an antivaxer who would be aggressive towards doctors? Or his close relatives?
-We are encountering increasing hostility, whether from patients or their relatives. This is incomprehensible to us health professionals, because we are not the cause of the situation that has occurred and that we are currently struggling with here. In principle, the current pandemic can be called a natural disaster. Ultimately, we are the ones trying to help, whether or not the patient has been vaccinated. For us, however, information about the status of vaccination is of great value for us to be able to estimate the further course of the disease, so that we can properly approach each case from a medical point of view. We do not judge patients, but rather regret that we were able to prevent the patient from ending up in the hospital by vaccinating with more than 90 percent probability. Several of our colleagues encountered certain verbal expressions of aggression. Of course, we have to deal with this as best we can. However, these attacks do not add to our work ethic.
One absurdity has recently spread – people are trying to get a vaccination card by falsifying – that is, they have a vaccination card but have never received a vaccine. What do you say to that? Have you encountered this problem here as well?
-You hear yes, but it's something no one will admit personally. It is an extremely socially and medically dangerous and non-solid step, which will endanger not only the person who approaches it, but also his surroundings. It is enough that a "fake vaccine" infects even one person who can be at risk and therefore end up in hospital. And if a healthcare professional does something like this, not for a fee, it is clearly a crime. Personally, I think this is a reprehensible practice by all parties involved.
VIDEO Primary of the pulmonary ward, where the COVID ward is established: Will further revaccination be needed?
What could help us in the fight against coronavirus?
-Only speed up the pace of vaccination. Give at least the first dose of the vaccine to all those who want it. It is also necessary to convince those who have not yet decided. In addition, the pace of vaccination with the third dose, ie the booster dose, needs to be accelerated. Especially for at-risk groups as well as those who were vaccinated before the summer, as it turns out that in these cases protection is already a vaccine insufficient for many people. The third aspect is to follow at least the basic rules of ROR, ie the veil, distance, hands and be in solidarity with your surroundings. Although we are all tired of the pandemic situation, we have no choice. If the solidarity of all of us is not enough, people will die and we are already seeing it. In addition, we paramedics are tired of it all, seeing such a huge number of people die every day is psychologically demanding. Because in most cases these are completely unnecessary deaths that could have been prevented.