The broadcast will start with a discussion and a documentary from the preparation of sports television. From 6 pm, the historically first live broadcast on Sports will come – the hockey duel Tipos extra league.
"The purpose of the new sports television circuit is not only to bring quality craft broadcasts from sporting events, but especially to encourage all ages and social sections and structures of the population to move, because the more one moves every day, the greater the assumption that the stronger the his immunity and health, "said RTVS head Jaroslav Rezník on the television website.
The new RTVS sports television will broadcast 24 hours a day and will include dynamic sports news.
Sports fans can also prepare for an overview of current events that have taken place in the world of domestic or foreign sports at a given moment.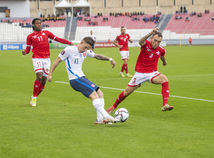 Read more National football on RTVS screens does not end there
For the year 2022, RTVS has contracted many important events, broadcasting more than 3,600 hours of live broadcasts, including the Olympic Games in Beijing, the World Hockey and Football World Championships, the Alpine Skiing and Biathlon World Cup and European and national football competitions.
"I believe that the new program service will confirm its viability, which will accelerate the stabilization of its funding in the long run.
We were looking for the earliest possible date for the restart of production and broadcasting processes, which we needed for several weeks so that RTVS viewers received a new broadcasting service as a Christmas present, "said the head of the sports section, Matej Hajko.