As stated by the Slovak Hydrometeorological Institute (SHMÚ), it looks like the first snow in lower positions will fall this Friday. "On Friday, a wavy cold front will advance from the west through Central Europe. On this cold front, the pressure line will move lower, from the northern Adriatic, through our area further over Poland (Fig. 1). even a little deeper, but the pressure drop in its center will not be significant, " meteorologists said.
However, according to them, it is more important that colder air will start flowing towards us from the northwest on the back side of the pressure, which will result in a decrease in the zero isotherm and thus also in the snow line.
On the night from Thursday to Friday, it will first start raining in most parts of Slovakia. We can expect snowfall especially in higher mountain locations. However, the situation will change on Friday. As early as noon, it starts to cool from the west and the rain turns to snow. In the extreme west, the first flakes fall even in lower positions. In the east and south, however, it should still just rain.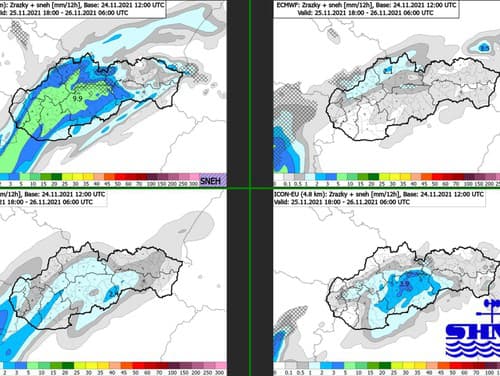 Source: SHMÚ
"If we look at the average of the ensemble of a 12-hour total of only snowfall, we see that until Friday evening it will snow the most in Záhorie, the border with the Czech Republic and also in the higher parts of central Slovakia," states SHMÚ.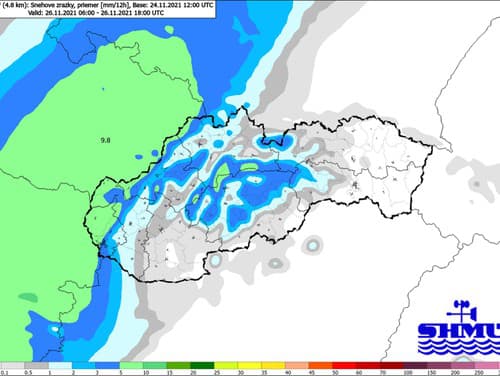 Source: SHMÚ
Cooling will continue from Friday to Saturday night. This will be accompanied by still relatively heavy rainfall, which will gradually weaken. According to meteorologists, it should also snow in a large part of central Slovakia and in Spiš. The inhabitants of Zemplín and the southern areas, where they do not have to snow at all, will enjoy the least snow. On the contrary, the worst situation with snow will be gradually in the extreme west and also in the higher mountain passes almost anywhere in Slovakia.
According to the Slovak Hydrometeorological Institute, this will be the first extensive snowfall in this year's winter season. Snow cover should also form.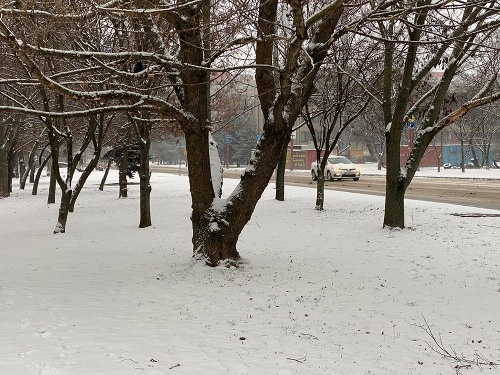 Source: Topky / Ján Zemiar
It is snowing in Bratislava rather than Orava
As the portal pointed out imeteo.sk, Bratislava paradoxically has a higher probability of snowing than Orava on Friday. The Little Carpathians will play an important role. They will separate the cold air from the northwest from the warmer, which will remain in the southeast. While in Malacky it should snow at around 0 ° C on Friday afternoon, according to the portal, it will rain at +3 ° C on the opposite side of the Little Carpathians in Trnava.
The situation will be different in the capital itself. While it should snow in Dúbravka, Koliba or Záhorská Bystrica, it may look different in Karlova Ves or in the Old Town. In such Ružinov or Novo Mesto, count on the rain.