A Thai rapper, the president of a Ugandan political party, a dozen journalists from the same media in El Salvador… On Wednesday November 24, Apple began to alert dozens of suspected victims of the Pegasus spyware, sending them a message to them. warning that "State-linked hackers" attacked their phone and iCloud account.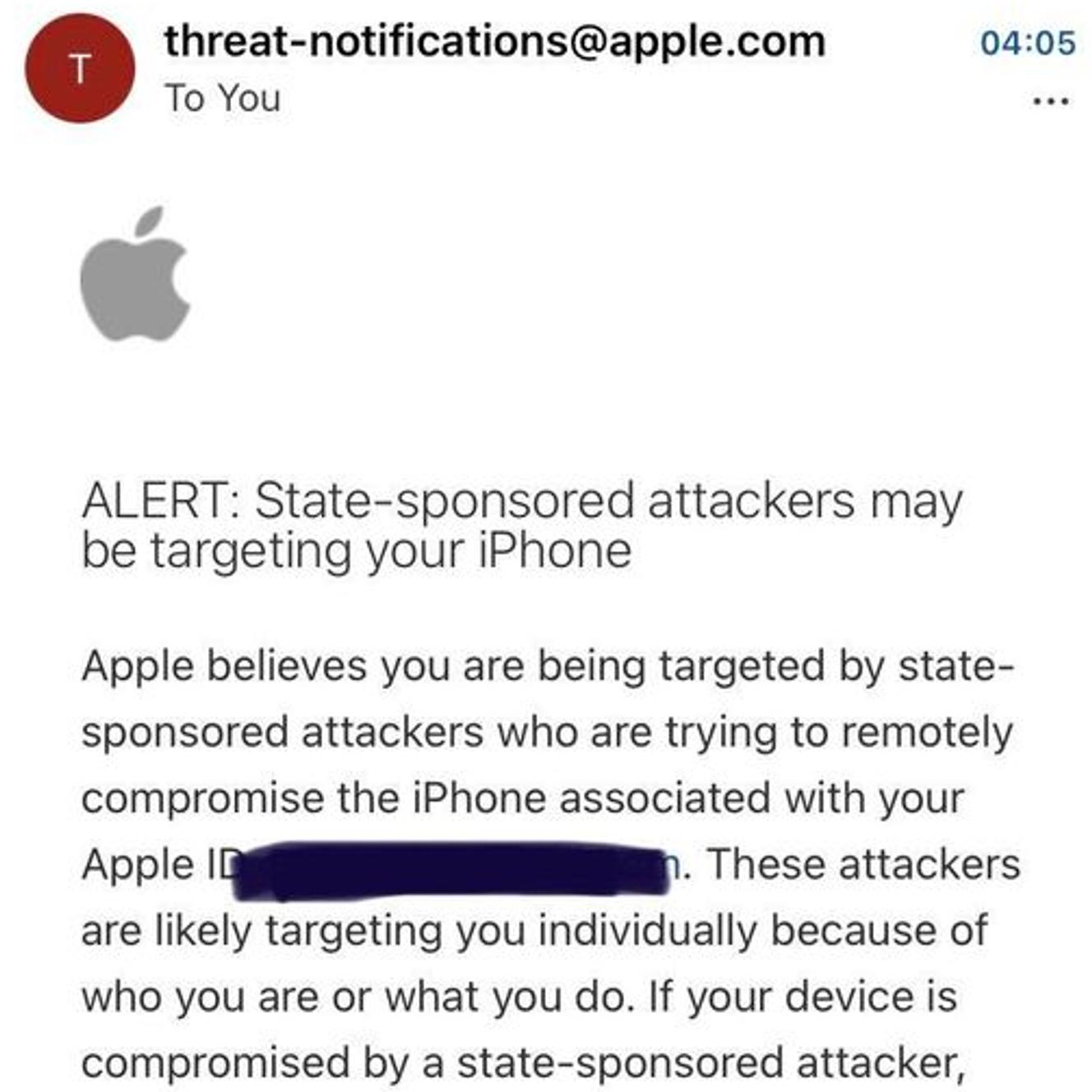 The day before, the company had announced that it had filed a complaint in the United States against NSO Group, the Israeli company that markets Pegasus, one of the few spyware capable of remotely infecting iPhones in a way that is completely undetectable for their users. A similar complaint was filed in 2019 by WhatsApp, when the company discovered that an email loophole was being exploited by NSO Group to hack Android phones.
As WhatsApp did at the time, Apple also announced that it would individually notify recent victims of a hack attempt that it could identify. Less than twenty-four hours later, dozens of people around the world claim to have received a notification from the American giant. Almost all of these alleged victims are politicians, human rights activists or journalists – all people whose surveillance is illegal under international law.
In Thailand, several opposition figures published copies of an email sent to them by Apple, including the anti-government rapper Hockhacker, of Rap Against Dictatorship collective. At the beginning of January, the video of the flagship title of this protest group, Patiroop ("Reform"), seen nearly ten million times, had been blocked by YouTube in Thailand following a government complaint. Academics, community activists and politicians across the country said they had received the same message. Thailand had been identified as a probable customer of NSO Group in 2018, during an analysis conducted by the Citizen Lab at the University of Toronto (Canada), which specializes in tracking down spyware.
Journalists and political opponents
In El Salvador, a dozen journalists and executives from the news site El Faro have also received a notification from Apple, announced the center-left media in a press release. According to the latter, several personalities of the Nuestro Tiempo party (center, opposition) have also received confirmation that they could be targeted, as have the two main officials of the NGO. Democracy, Transparency and Justice Foundation.
Elsewhere in the world, the people who chose to reveal that they had received a warning message from Apple are almost all linked to an opposition political movement or work for the media. This is the case of a journalist in Ghana or several Armenians, including the former head of the country's intelligence services, since reconverted in politics, or again, in Uganda, of the president of the Democratic Party (center right, opposition), Norbert mao.
Got a notification from Apple?
If you are one of the alleged victims of Pegasus that Apple has contacted, we would like to speak to you. You can contact our journalists at the addresses below: [email protected] and [email protected]
In July, The world and sixteen other editorial staff, coordinated by Forbidden Stories with technical support from Amnesty International, revealed that NSO Group's software, officially sold only for the purpose of combating terrorism and organized crime, was being used by multiple clients. company to illegally monitor lawyers, political opponents, journalists or human rights defenders. NSO Group affirms that it cannot control the use made of its software by its customers and carry out investigations that could lead to the termination of the contract when "Credible allegations" abuses are reported to him. The notifications sent by Apple, however, seem to confirm that illegal uses of the software are commonplace among a large number of Pegasus customers.
Series of major setbacks
Apple's notifications and complaint are the latest in a series of setbacks for NSO Group. At the beginning of November, the company was placed on the "blacklist" of the United States Department of Commerce, a very strong sanction which largely prevents him from interacting with American companies. A few days later, the new CEO of the company had resigned, less than two weeks after his appointment. The use of Pegasus is also at the heart of a extensive survey in India and a diplomatic standoff between France and Israel, whose defense ministry validates exports of spyware used to target several senior government and diplomatic officials in France.
On November 22, the rating agency Moody's downgraded NSO Group's debt by two levels, estimating what company "Is very dependent on new license sales, which seem increasingly difficult to achieve given the ongoing actions against NSO". NSO Group has a debt of approximately 450 million euros.
Find all of our content in the "Pegasus Project" section.