It relies on human responsibility to adhere to anti-epidemiological measures. He does not consider the fact that no state of emergency was declared this year to be a mistake. "It's not the way we want to go." noted in this regard. According to the Prime Minister, the current threats, especially those not affected by COVID-19, are currently at risk. He pointed out that they make up the majority of those hospitalized. He emphasized that vaccination also saves financial resources and helps the economy to function better.
He claims that within the coalition, it is the We Are the Family movement that communicates with the unvaccinated. He expects that the new police president Štefan Hamran will resolve the situation around people who do not comply with the set measures in the shops. According to him, it goes "for a small group of noisy people who are trying to convince themselves that Slovaks behave in this way". The prime minister thinks that these people must be made clear that the law applies to everyone.
According to him, the topic of vaccination has been politicized. He thinks the people were scared of lies by leading opposition leaders. He will not ask for a Lengvar exchange for the time being. Heger considers current to be the most important "manage the whole pandemic".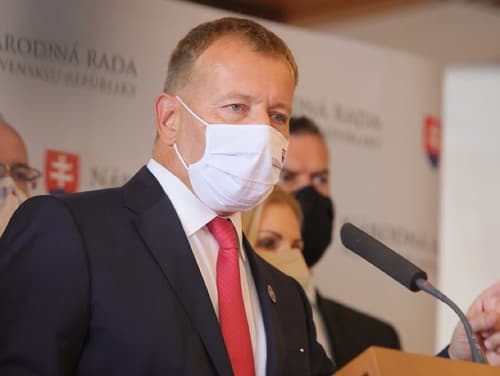 Source: Topky / Vlado Anjel
Slovakia lacks reforms
He also pointed out that Slovakia lacks reforms and needs to start. The position of the chairman We are the family of Boris Kollár not to support health care reform does not understand. He is disappointed that there are many lies around this reform. He denied that hospitals were to be closed. It should lead to an increase in the quality of health care provision. "Boris Kollár repeats the lies that the opposition began to spread. And, unfortunately, he believed them." Heger remarked.
archive video
He considers the leakage of information in Slovakia to be a long-term problem. "We're looking for solutions to eliminate this as much as possible. Ultimately, it's always the human factor that can decide that." he added. According to the Prime Minister Robert Fico, the chairman of Smer-SR showed the morale he has. According to him, he risks the lives of old people and incites non-compliance.