archive video
The recordings made at the cottage, where the chairman of Smer met with Marian Kočner's lawyer Marek Par, the son of Tibor Gašpar Pavel and Miroslav Bödör, show that Robert Fico recently overcame Covid-19 and has long-term consequences. The information was provided by the portal pos.sk.
According to the portal, Fico started having problems the very next day, when he came to Crete, where he was on vacation with his girlfriend. His chest began to ache, he had fever, and later dropped out at breakfast. He was ratted by a German cardiologist from the side table, who thought that the chairman of the Direction had had a heart attack.
They were later found in the hospital to which he was taken to be a Covid-19, and the combination of heat and low pressure caused Robert Fico to drop out. The ex-prime minister spoke to the incident at a cottage where he met the people mentioned above. The hospital was to be staffed by a student from Comenius University, who recognized and alerted him to the staff. Later, the police came to see him, and they insisted that he be in the covid's department by evening. At night, however, he signed a reverse.
Quarantine and covid consequences
However, as Robert Fico was positive, he had to remain in quarantine for 14 days. He described to his friends at the cottage that he had been closed in an air-conditioned room for 11 days, but they still did not want to let him go because he did not have a PCR test, which is difficult to order in Greece. In some cases, two months are expected. In the end, he decided to leave Greece illegally.
Shortly after his arrival in Slovakia, he also supported Dušan Kováčik in court. There he admitted to reporters that he had returned from abroad. He did not comment where he was or whether he should have remained in quarantine as unvaccinated. "There is absolutely nothing to you where I have been. If you allow me, I have no legal obligation to inform you where or for what purposes I have traveled or not." Fico replied then.
According to Robert Fico, covid survived like the flu and did not have a difficult course. He took antibiotics, which he always carried with him, as well as ivermectin. However, he admitted that he was still not quite right. "I don't train, otherwise I train every day like crazy, I don't control anything. The only thing that bothers me is that I can't get rid of cavities. Otherwise I don't have anything like temperatures, no, that's all right." said Fico according to the portal on the record, adding that he had already passed five tests.
Terrible disease, terrible
The former prime minister complains about the consequences of Covid 10 days later at the same cottage. He says he can't get rid of him, even though his tests are okay. "But it broke me on Thursday. I lay there all Friday, I canceled the program all Saturday, and this morning I was in a position to cancel the Mining, too." says Fico. On that day, together with other party colleagues, he also took part in laying wreaths in Kremnička.
"Fatigue, I still have a tin taste in my mouth, I don't know what it is, such that I don't feel like I'm still feeling something," Fico continues. "Terrible disease, terrible. And yet, I didn't have a difficult course, I had a normal flu," he added.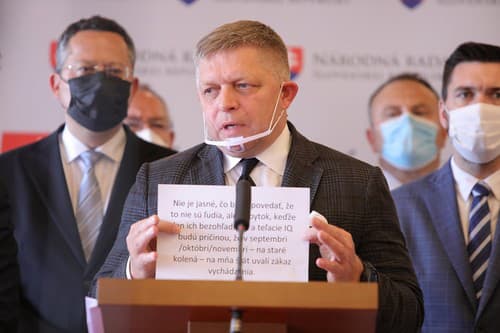 Source: Topky / Vlado Anjel
Apart from the fact that Fico did not enjoy his vacation in Crete for quarantine, he was robbed of his office during it. He lost 50,000 euros and gold coins. However, he did not report the theft to the police. Instead, after the publication of the recording, MP Ondrej Dostál did so, who also added a criminal report for suspicions of committing a crime of not reporting a crime.